Death toll rises to 17 in deadly mudslides in southern California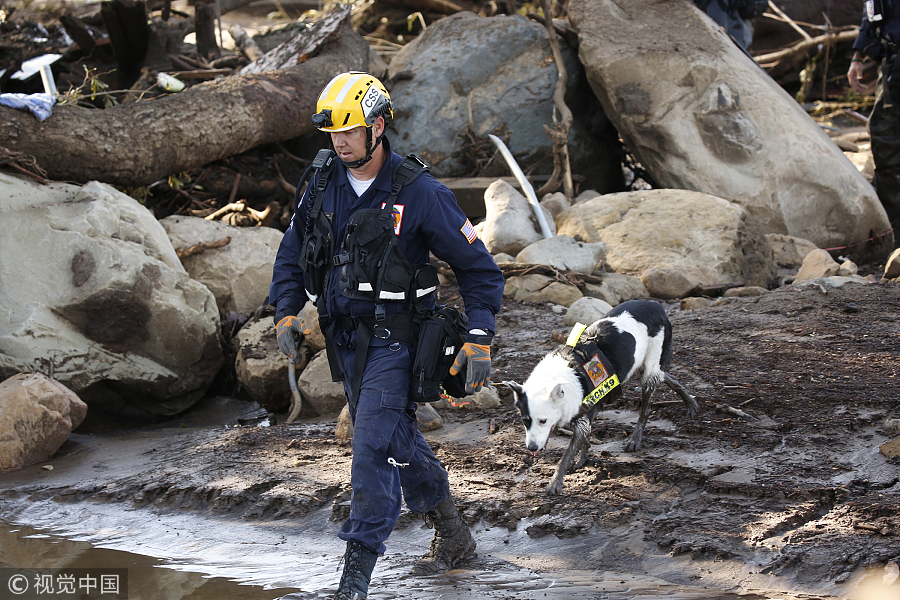 LOS ANGELES -- At least 17 people have been killed in the southern California mudslides caused by a winter storm which destroyed at least 100 homes, local authorities said Wednesday.
Three people were rescued Wednesday, but they also discovered two more bodies, raising the death count to 17, Santa Barbara County Sheriff Bill Brown said.
Authorities have not confirmed the names of the dead. Children are among the victims, said County Fire Spokesman Mike Eliasoon.
Hundreds of firefighters and others are still hunting through the mud and wreckage. Authorities said about 75 percent of the devastated area has been searched.
Dozens of people have been rescued and another 13 are missing in the county, officials said. The US Coast Guard said it used helicopters Tuesday to rescue people from rooftops.
Strong winter storm on Monday hammered southern California on the US West Coast with heavy downpours, triggering deadly mud flows before dawn on Tuesday.
TV footage from local media show that in the Montecito area in the county, northwest of Los Angeles, the mudslides toppled trees and swept cars away. Multiple houses in the affected areas were torn from their foundations.