Winter has come for physical outlets in age of e-commerce
Xinhua | Updated: 2018-01-12 09:27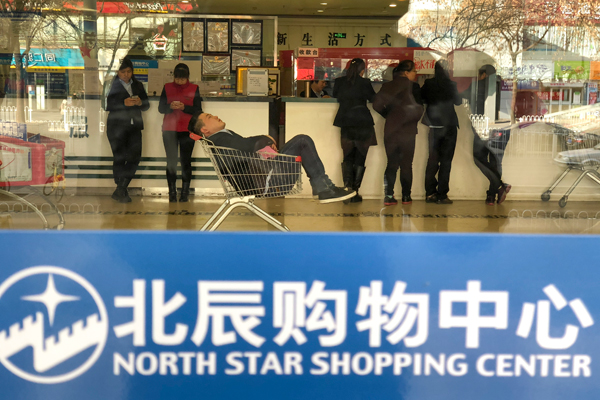 BEIJING-The closure of a 27-year-old shopping mall in Beijing has sparked sadness that winter has come for physical stores in the age of e-commerce. North Star Shopping Center in the Asian Games Village (Yayuncun) announced its closure Monday. The center is located outside the northern part of the fourth ring road in Beijing.
The shopping mall, which opened during the Asian Games in 1990, used to be the commercial pride of the Chinese capital. It was the first shopping mall to have an indoor elevator for shoppers. It was the first supermarket in Beijing to open its shelves to consumers at a time when purchases were mainly made over the counter. It was also the first store to offer nonstop shopping during the Lunar New Year.
North Star group, a State-owned enterprise, said sales in 1997 were 1.2 billion yuan (about $150 million).
"When I first moved here, there were many shoppers and things were cheap. But later it started to sell pricy stuff, and there were fewer and fewer people," said 55-year-old Wang Tao, who lives near the closed shopping center.
On Monday, the logo of the center had not yet been dismantled. Inside, there were red lanterns signaling the coming Lunar New Year, but most shops had been vacated and doors locked. Chefs who used to work on the top floor were carrying cookware downstairs. Staff helped customers to clear credit on their shopping cards.
"The company tried to cut costs, change the way we operate and bring in more brands, but despite everything we did, we failed to turn things around," said Yang Zheya, an employee at the center.
Since 2013, profits of the shopping mall have been decreasing and it was even loss-making at times, the company said in a statement.
After the closure, the space will be used for cultural, educational and training purposes. Part of the space will be turned into company offices.
North Star is the latest shopping center domino to fall in Beijing. Starting from May last year, stores began to pull out from Sogo, one of the largest shopping malls in Xuanwumen, central Beijing. Sogo's destiny is still unclear.
Such a gloomy outlook has become common among department stores and shopping centers, as e-commerce has reshaped the country's retail landscape. Companies sell things online at lower margins, and Chinese consumers have become used to clicking on their smartphones and having their groceries delivered to the doorstep.
According to the China General Chamber of Commerce, sales of major retail companies in China fell by 0.5 percent, 0.4 percentage points more than the previous year.
"The impact of e-commerce, rising costs and market competition has forced shopping centers like North Star to lose their advantage and end up in closure or bankruptcy," said Cao Lei, head of China's E-Commerce Research Center.
"In the industry reshuffle, new retail, which integrates online with offline shopping, and provides a refreshing shopping experience, is taking hold," Cao said.
Alibaba's Hema supermarket has opened 25 outlets in seven Chinese cities. Consumers can shop for groceries and have food cooked, all under one roof.
Another e-commerce giant JD.com opened its first offline fresh food supermarket in January. The 7FRESH supermarket covers over 4,000 square meters and is located near JD.com's headquarters in southern Beijing.
Wang Xiaosong, president of 7FRESH, said it planned to open 1,000 shops across China within the next five years.
In new retail model, big data records your shopping preference, deliveries are made within half an hour and payment is made through facial recognition.
"Technology is changing traditional retail, and only those who can adapt well will thrive," Cao said.