Heavy snowfall welcomes giant pandas arriving in Finland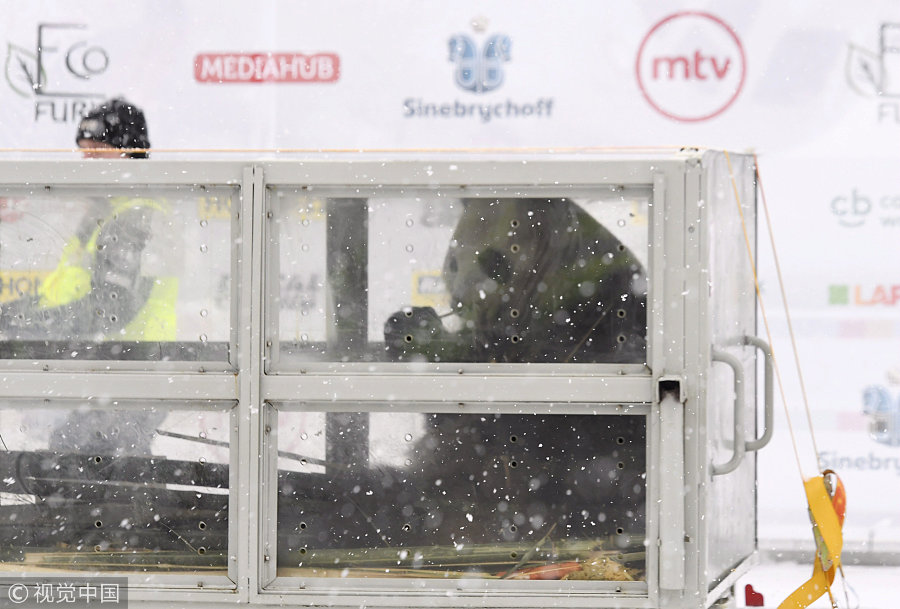 HELSINKI -- Snowflakes swirled around the Helsinki-Vantaa International Airport on Thursday morning, as a crowd welcomed a pair of Chinese giant pandas eating bamboo inside two transparent glass boxes.
The boxes were drawn by a vehicle with 60 reporters and photographers documenting the proceedings as they were loaded onto a container truck to be transported 300 km further north to the Ahtari Zoo, where the couple will stay for 15 years.
The male, Hua Bao, and the female, Jin Baobao, are the first pair of Chinese giant pandas arriving in the Nordics. Jukka Salo, an expert of giant pandas from the Ahtari Zoo, said the zoo had made special preparations for the newcomers, including an installation that brings more sunshine during the long dark winter time.
Salo said he was relieved when he saw Hua Bao and Jin Baobao were in good condition after arriving at the airport. "What was the male doing? He was just eating bamboo happily," said Salo, adding that the female one was actively looking around, which is "always a good sign."
Salo was optimistic that the couple would quickly adapt to the zoo, which he believed is "the best place for giant pandas to live in the world" after their original habitat in China.
Finns have given the two Chinese guests Finnish nicknames "Pyry" and "Lumi", which mean "heavy snowfall" and "snow".
Coincidentally, heavy snow fell in Scandinavia prior to the arrival of the pandas, which "seems like a sign of welcome," said Chinese Ambassador to Finland Chen Li.
"Although Chinese people have seen giant pandas in their life, it is rare to see pandas playing with the snow, and pandas in snow will become a unique scene in the Ahtari Zoo," said Chen, adding that the arrival of the giant pandas would promote exchange of knowledge and ideas between the two peoples.