Tillerson downplays reports of US-led border force in Syria
By REN QI | China Daily | Updated: 2018-01-19 10:01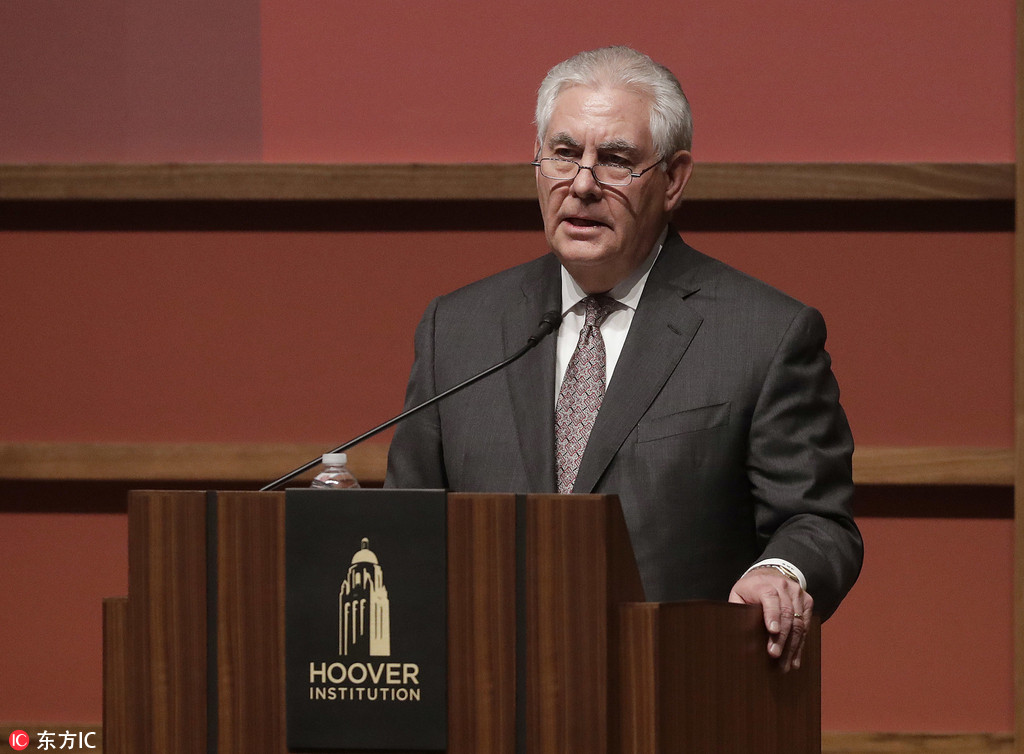 The training of an armed force by the United States in Syria will raise tensions in the region, and may cause another round of military reactions by Russia, experts said.
The US-led coalition against the Islamic State extremist group had issued a statement confirming that it will set up a 30,000-strong new border security force with the Syrian Democratic Forces, which was led by Kurdish People's Protection Units, or YPG.
Turkey sees the YPG as the Syrian affiliates of the Kurdistan Workers' Party, or PKK. However, the US has supported the YPG as its ally on the ground in combating IS in Syria.
US secretary of State Rex Tillerson said on Wednesday that the US owes Turkey an explanation for saying it is supporting the creation of a border security force in northern Syria after the proposal drew a furious reaction from Ankara.
Tillerson said: "That entire situation has been mis-portrayed, mis-described, some people misspoke. We are not creating a border security force at all."
Sun Chenghao, a researcher from China Institutes of Contemporary International Relations, said the training of Syrian fighters has anti-terrorism concerns, and the US wants to have a reliable security force to prevent any resurgence of IS.
Sun said Washington is trying to maintain its military presence to limit the influence of Iran, Russia and the Syrian government in the region with the excuse of anti-terrorism.
Turkish President Recep Tayyip Erdogan on Monday vowed to "drown this army of terror before it is born".
Tillerson on Wednesday clarified Washington's intentions, saying the US will provide training to local forces in areas retaken from the IS group.
Moreover, Tillerson called for Russia to continue working with the US on a "de-escalation" area in southwest Syria and stick to commitments to a UN-led peace process.
Chen Yu, a researcher of Russian studies at the China Institutes of Contemporary International Relations, said Russia and the US have the largest military influence in the Syria, and Moscow has more advantage than Washington as a foreign force due to the good relations between Moscow and Damascus.
"As Moscow's influence in Syria is rising and US-Russian ties failed to recover, it makes sense for the US to train YPG forces on the ground," he said.