Beijing drop in population first for 17 yrs
By Du Juan | China Daily | Updated: 2018-01-22 07:48
Efforts to relocate noncapital functions credited with 0.1% decline in 2017
Beijing's population shrank in 2017-the first time in 17 years-as the result of nonessential functions being relocated outside the city and better urban management, authorities said on Friday.
The capital had 21.7 million permanent residents by the end of last year, 22,000 less than in 2016, a 0.1 percent fall year-on-year, according to the Beijing Bureau of Statistics.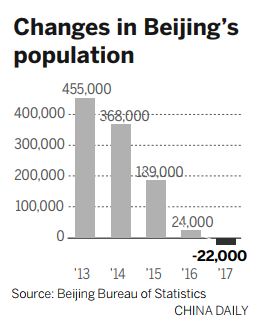 The growth rate of Beijing's population has been falling since 2011.
Pang Jiangqian, spokeswoman for the bureau, said the negative growth in 2017 is in accordance with the city's development.
"As the development gap between rural and urban areas has been narrowing during the continuous urbanization, some provinces and cities have seen people returning from big cities. Meanwhile, the speed of the population flow toward big cities is slowing down," Pang said.
She added that Beijing is moving out nonessential functions, including manufacturing, logistics and wholesale markets. Moving such labor-intensive industries to other places has affected the population.
According to data from the bureau, among the 21.7 million permanent residents in Beijing, 18.8 million people live in urban districts and the rest in rural areas.
About 10 percent of the population were age 14 and under, 73 percent were between 15 and 59 years old, and 16.5 percent were age 60 and above.
According to city government plans, Beijing will cap its population at 23 million by 2020 and maintain that level for a long time to ensure the balance in people and water resources.
The population in the six downtown districts-Dongcheng, Xicheng, Chaoyang, Haidian, Fengtai and Shijingshan-declined for the first time in 2016.
Beijing aims to cut the population in these districts by 15 percent by 2020 compared with the 2014 level, which means a reduction to 10.85 million permanent residents.
The capital has experienced many issues due to its rapid development, including traffic congestion and air pollution. Public services such as education and medical care cannot meet the growing demand brought by the rising population, and so the population decline is expected to help the city function better.
The Blue Book of Social Work in Beijing released in September by Beijing University of Technology, the Beijing Committee of Social Work and the Social Sciences Academic Press found that efforts to relocate noncapital functions outside the city have contributed to the population change.