Hit hot issues, Li says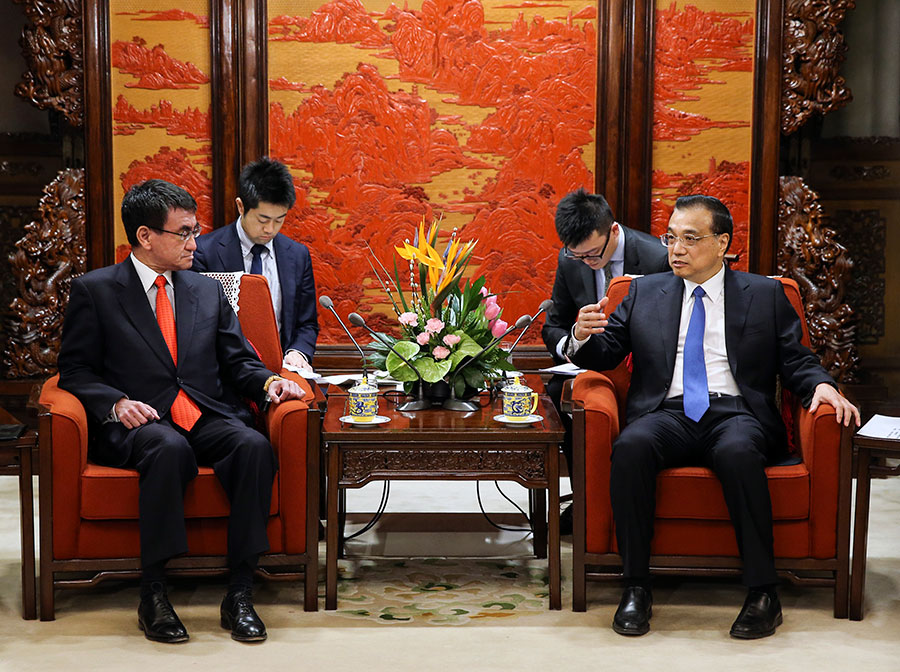 Premier Li Keqiang has described China-Japan ties as undergoing "warmth mixed with chills", and he called on Japan to effectively tackle sensitive issues, including historical ones, and properly manage and control divergences.
Li also urged Tokyo to present positive prospects to all walks of life in both countries when he met with visiting Japanese Foreign Minister Taro Kono in Beijing on Sunday afternoon.
It is hoped Japan will create an ideal atmosphere for expanding cooperation, restarting the dialogue involved and promoting East Asia regional cooperation, Li said.
During Foreign Minister Wang Yi's talk with Kono, earlier on Sunday morning, Beijing and Tokyo agreed to convene a new round of the China-Japan-Republic of Korea Leaders' Meeting as soon as possible.
According to the Foreign Ministry, the two sides agreed to create an enabling environment for convening the trilateral gathering.
The most recent trilateral gathering-the sixth of its kind-was in November 2015 in Seoul, involving Li, Japanese Prime Minister Shinzo Abe and the then-ROK president Park Geun-hye.
Kono told the premier that Japan is willing to meet China halfway to make joint efforts in improving and deepening bilateral ties, and it is ready to jointly explore cooperation that engages third parties.
Tokyo looks forward to an early meeting of leaders from the three nations, and it welcomes Li's official visit to Japan, Kono said.
Also on Sunday, China and Japan welcomed their principled agreement made on establishing a bilateral maritime and air liaison process, saying that they would like to sign and implement it in the near future.
Beijing and Tokyo have embarked on a slew of talks in recent years-including consultations of expert groups-in order to finalize the procedures that will help manage potential crises in the East China Sea and avoid misjudgments of each other.
The two sides should work together to make the East China Sea a sea of peace, cooperation and friendship, the Foreign Ministry's release said.
Wang told Kono that the two sides have decided on the principles and criteria for properly tackling sensitive issues, and it is hoped Japan will honor its commitment and act on the rules.
Kono said Japan will treat issues related to Taiwan as stated in the China-Japan Joint Statement in 1972.
Japan believes affairs related to Tibet and Xinjiang are China's domestic affairs, and it is ready to properly tackle relevant issues, Kono said.
Kono made his first official visit to China over the weekend, at a time the two countries are marking this year's 40th anniversary of the signing of the China-Japan Treaty of Peace and Friendship.
The two sides agreed to take the anniversary as an opportunity to strengthen exchanges at all levels and in fields such as culture, local media and youth.
Today's Top News
Editor's picks
Most Viewed