Minting gold from silver screen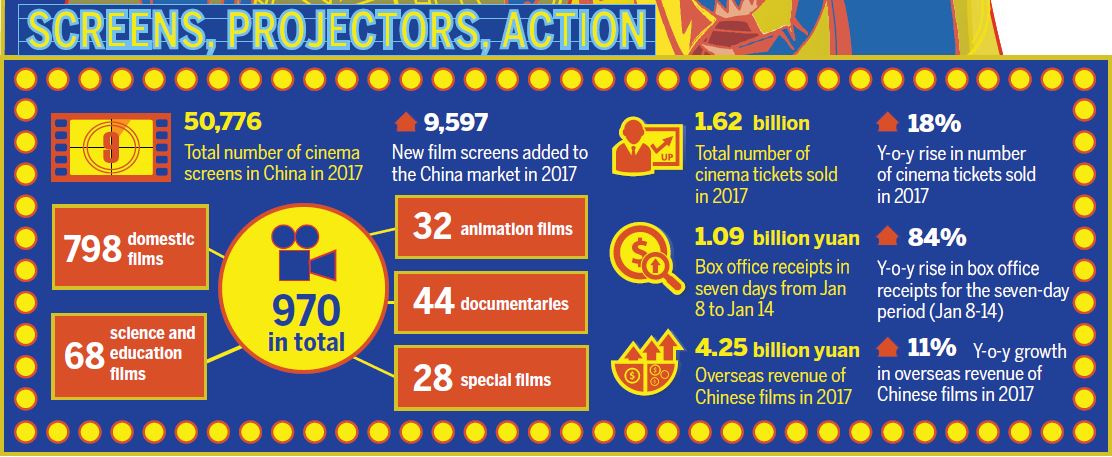 Minting gold from silver screen
Likely box-office records around Spring Festival herald dawn of a new era in China's film industry
Spring Festival is nigh, and China's film industry people have a spring in their step. Hopes are high that the festival period could be better than last year's, which saw a dozen of Chinese films grossing 3.38 billion yuan ($537 million).
Typically, the Spring Festival month, which is usually January or February, produces the year's peak performance for the Chinese box office, the world's largest with 50,766 cinema screens countrywide by the end of last year.
Since Jan 1, more than 50 new films have released already, which is unprecedented. And there are more in the pipeline.
The national box office set a record in 2017: almost 56 billion yuan, up 13 percent from 2016.
Last year, there were 92 films whose revenue exceeded 100 million yuan each including 51 Chinese movies. About 1.62 billion tickets were bought, up 18 percent year-on-year.
In 2017, the Chinese film industry produced 798 dramas, 32 animation films and 44 documentaries in all. Fifteen movies earned more than 1 billion yuan each at the box office, up from nine in 2016.
In the coming days, records will likely be broken and history will be made as China's film industry appears to be on the cusp of a new era, industry insiders said.
This year, the number of new film releases, box office receipts, and even stock-market performance of shares of listed entertainment companies are expected to be higher, they said.
Amid the most crucial period of the year, filmmakers cutting across genres are fancying their chances, aware that the digital-age Chinese filmgoers are an evolved and discerning lot, who would shower their attention, praise and money on quality productions.
"Moviegoers' reviews have had an increasingly significant impact on the box office during the Spring Festival month more than other factors such as the participation of pop celebrities in pre-release promotions," said Yin Hong, a media professor at Tsinghua University.
Also, viewers are no longer getting swayed by big names or blockbusters alone. They don't care if the movie is Chinese, Hollywood, European, or Indian either, as long as it has substance. Even a low-budget flick with little-known cast and crew could emerge a hit, industry observers said.
Proof of this new vigor in the cinema market can be found in the just-released data for 2017.
China's cinemas raked in more than 50 billion yuan in 324 days excluding the Spring Festival holiday period, much of it coming from places other than tier-1 and tier-2 cities, according to data from the State Administration of Press, Publication, Radio, Film and Television.
The corresponding figures were 44 billion yuan in 2015 and 45.7 billion yuan in 2016.
A variety of films have fared well at the box office in recent months. For instance, Youth, directed by Feng Xiaogang, is a drama about young people coming to terms with their past.
Produced by Huayi Brothers and New Saint Film Studio, and released on Dec 15, Youth has a rating of 7.8 on the movie review website Douban. It raked in 1.44 billion yuan by Jan 19, according to Guosen Securities.
According to Entgroup, a Chinese film trade information platform, Huayi's another film, The Ex-File: The Return of the Exes, has generated 1.82 billion yuan by Jan 16. Huayi, which produces and distributes the Ex-File series, said it expects the latest film to generate 450 million yuan to 550 million yuan in all.
According to Guosen Securities, this year, Huayi has a strong pipeline of movies, including the third installment of The Detective Dee, Monster Hunt 2 and Girls 2.
A dozen new films, including Forever Young by Li Fangfang and starring Zhang Ziyi, have been released by China Film Group Corp, to coincide with the 100th anniversary of Tsinghua University.
Similarly, Chen Kaige's Legend of the Demon Cat, and Star Wars: The Last Jedi, produced by Lucasfilm Ltd and Walt Disney Pictures, have been released this season.
Liu G2, vice general manager of Huayi, said the days when movies relied on famous intellectual property or renowned movie stars to draw in audiences are long gone. Even a small- or medium-budget production, if it is inspirational or is able to whip up the right emotions, could hit the box office jackpot, he said.
According to the China Moviegoer Satisfaction Survey report by Entgroup, Chinese film-goers' satisfaction rate is more than 80 percent.
That is also evident in this season's biggest box office grossers The Wolf Warriors and Never Say Die, which have received ratings of 7.2 and 7.3 out of 10 respectively.
High ratings translate to big revenue for movies. By netting 5.68 billion yuan last year, Wolf Warrior 2 has emerged as the highest-grossing film in the Chinese cinema history. It cost 200 million yuan to produce.
Its revenue accounted for 10 percent of the total takings for 2017 and brought in nearly 70 percent more than The Mermaid in 2016, the second-biggest movie of all time at the Chinese box office, with ticket receipts of 3.39 billion yuan.
Never Say Die has grabbed more than 2 billion yuan to rank at No 2 on the box office list for 2017. It took about 70 million yuan to be made.
But not all films are as fortunate. Movies such as Ten Great Peach Blossoms have bitten the dust, suggesting that motion pictures based on franchises or intellectual property like popular graphic novels, comics and storybooks, would not always be able convert fans into movie-goers.
In China, this applies to even Hollywood blockbusters such as The Fate of the Furious from Universal Pictures and Spider-Man: Homecoming from Columbia Pictures and Marvel Studios.
So, "ramping up the number of cinemas or screens where a new movie is released would not guarantee success. Quality is king and storytelling is key," said Tang Bohui, general manager of Poly Movie Investment, a firm engaged in cinemas, post-production, film exports and marketing. "The investors are more rational when considering a movie project for financing."
Other factors they consider are demographics. In China, most of the movie-goers are aged between 18 and 28. This group prefers to watch love stories and romantic comedies.
In 2017, those aged below 18 were just 4 percent of Chinese movie-goers, but up 50 percent from 2016, suggesting that animations and family dramas could draw kids, teenagers, and their parents and grandparents to the cinemas, said Tang.
This approach to audience building is encouraging revenue stream-minded entertainment companies to invest in cultural extensions like theme parks and merchandise like toys, said Chen Shaofeng, deputy dean of the Cultural Industry Institute, which is part of Peking University.