Figuring on a festive treat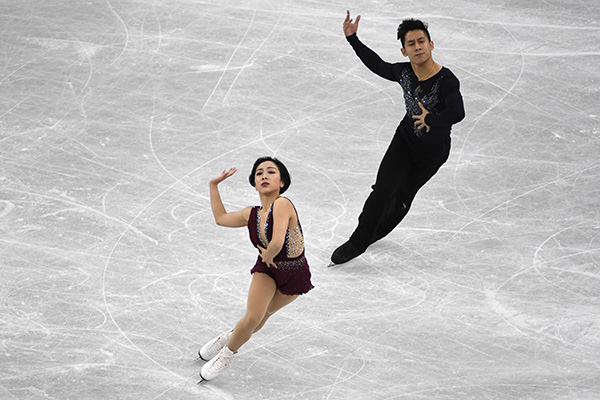 Chinese duo hopes to ring in New Year with Olympic gold
China's world champion figure skating pair looks set to deliver their home fans a golden Spring Festival gift at the 2018 Pyeongchang Winter Olympics.
Sui Wenjing and Han Cong have spent months perfecting their routines and are firmly focused on taking the first step towards bagging Olympic gold when the free skate competition takes place on Feb 15, the eve of Lunar New Year in China.
The overlap of a potential career breakthrough and the biggest national celebration at home is a huge motivation for the pair.
"For sure there is some pressure, given the high expectations, but we feel more excited than pressured approaching our first Olympics. The solid preparation in training made us fear no one and we are eager to compete," said the 24-year-old Han.
Sui agreed, saying their new routine based on famous Italian opera Turandot has matured.
"We've improved the details in presenting our routine artistically better and to combine the emotions with technical tricks," she said.
As China's most promising pair following the retirement of 2010 Vancouver Olympic champion duo Shen Xue and Zhao Hongbo, Sui and Han proved their mettle by winning the world championships in Finland last March after a tough 2016 that saw Sui undergo surgeries on both ankles.
After winning the worlds, Sui and Han traveled to Canada for training sessions with world-renowned choreographer Lori Nichol, who helped polish their artistic presentation and connections between difficult tricks.
The training paid off when they won three International Skating Union events in November-the China Cup in Beijing, NHK Trophy in Osaka and Shanghai Trophy-sending a strong statement that they're poised to end China's eight-year Olympic gold medal drought on the ice.
The Turandot routine is no stranger to Zhao, current head coach of China's team, as he won the country's first and only Olympic figure skating gold medal in 2010 with his wife Shen, skating to the same music.
The Sui-Han interpretation of the classic opera has what it takes to surpass the Vancouver performance, said Zhao.
"Technically and artistically, I believe they are already a better pair than we were," said Zhao, who retired with Shen after the 2010 Games and was appointed national team coach last year.
Among 20 qualified pairs in Pyeongchang, Sui and Han will first test their routine in the short program at Gangneung Arena on Feb 14 before the final phase of the free skate program the following day.
The current world No 1 pair of Yevgenia Tarasova and Vladimir Morozov, who are OAR (Olympic Athletes from Russia), Germany's world No 2 couple Aliona Savchenko and Bruno Massot as well as Cana-da's 2015 world champion duo of Meagan Duhamel and Eric Radford are the main challengers to the Chinese skaters.
Zhang Hao, a five-time Olympian who is China's oldest athlete in Pyeongchang at 34, will also try for a medal with partner Yu Xiaoyu.
In men's singles, two-time Worlds bronze medalist Jin Boyang has likewise set his sights on an Olympic breakthrough.
The 20-year-old Harbin native, famous for his quadruple jumps, struck gold at the ISU Four Continents Championships in Taipei last month, where his performance to the soundtrack of Star Wars set the stage for a close Pyeongchang fight with Japan's Shoma Uno and this season's ISU Grand Prix final winner, Nathan Chen of the US.
In the women's competition, Li Xiangning is China's only qualified skater as the 17-year-old is embracing the Games as a high-profile rehearsal for what is expected to be a spectacular effort at the Beijing Winter Olympics in 2022.