Hospital adopts play therapy for children to take away fear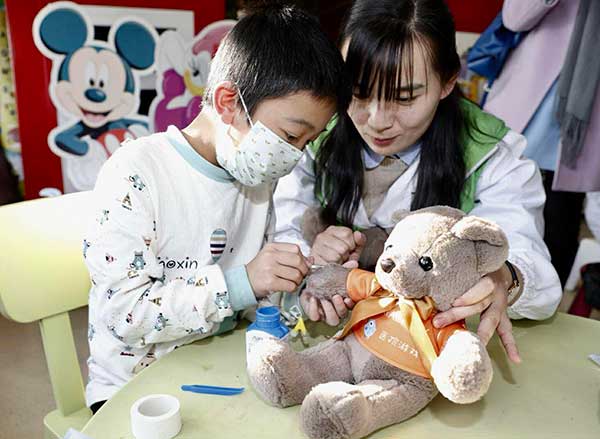 A Shanghai hospital has become the first on the Chinese mainland to introduce play therapy, which is designed to help children overcome the fear of medical treatment and better cooperate with doctors.
The Children's Hospital of Fudan University started using seven sets of games aimed at different ages and conditions on Tuesday. They including role-playing games or other activities that distract a child during potentially painful procedures or give them a better understanding of the human body.
Each set has different tools and children can play with their parents under the instruction of social workers at the hospital, which has partnered with game designer Right To Play, a Canadian NGO dedicated to using play to empower children in adversity.
"We tried to mimic the medical treatment procedures through the playing process so that children will become familiar with the procedures in the hospital and the common medical instruments," said Zhang Yexia, a strategic adviser at the China branch of Right To Play. "It will help them feel less afraid of the hospital and keep a positive attitude to fight disease."
She said play therapy, which has been adopted in some developed countries for decades, will begin with patients suffering kidney and immunological diseases at the hospital.