Far away from home, Chinese peacekeepers in Lebanon risk their lives for peace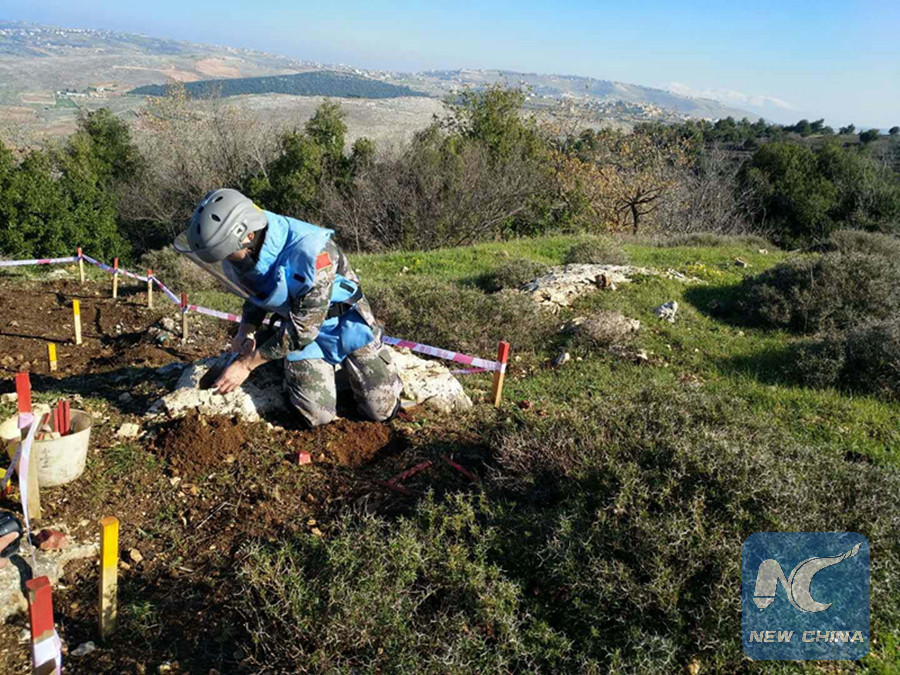 YAROUN, Lebanon - More than 6,000 kilometers away from his home and family, 25-year-old Li Junying waked up at 6 am in southern Lebanon and prepared to search for idle mines scattered along the United Nations Blue Line.
Unable to speak a word of Arabic, Li has no personal connection to the small Levantine country or its contentious neighbor Israel. Nonetheless, he is one of more than 400 members of the Chinese military deployed as UN peacekeepers responsible for overseeing calm in the sensitive area by the Mediterranean sea.
Officially known as the United Nations Interim Force in Lebanon, UNIFIL was established by the UN Security Council on March 19, 1978 to oversee the withdrawal of the Israeli occupation of southern Lebanon. The international peacekeeping presence is deployed near the UN demarcated "Blue Line" separating the two countries.
Following three more Israeli invasions in 1982, 2000 and finally 2006, UNIFIL updated its mandate significantly increasing the number of peacekeepers and their responsibilities in the conflict zone.
The Chinese battalion of UN peacekeepers (CHINBATT) were part of the expansions, officially establishing itself in Lebanon on March 31, 2006. While battalions used to rotate about every eight months, troops are now stationed a year in the foreign country before returning to their home.
As a representative of China in CHINBATT, Sergeant Li and about 60 other men (some only 22-year-old) are tasked specifically to disarm over half a million mines left by Israel.
The majority of these fatal devices are densely packed along the southern border. Following the Israeli withdrawal in 2006, mines and cluster munitions have resulted in over 200 deaths and hundreds of more injuries.
"I was scared at first," Li admitted while recounting his first day in the field.
"Even though we were trained in China and (Lebanon), it's normal to be a little afraid. Everyone is at first, but there is a lot of supervision."
Despite his young age, Li is currently serving his second mission in southern Lebanon. He first arrived in 2013 when he was also tasked to clear the land of explosives.
Sitting next to him, 29-year-old Sergeant Jin Wei, who is on his third rotation in Lebanon, nodded his head.
"My parents were worried when I told them what I was doing," Jin told Xinhua.
"But we work very carefully and don't make mistakes."
Lieutenant Colonel Luo Qiang, the head supervisor of CHINBATT's demining team laughed in agreement.
"The Chinese are special," he said proudly noting CHINBATT's clear record of any accidents and injuries since the beginning of their work in 2006.
"We work professionally and we never make mistakes."