From Xi'an to Liverpool, the march of priceless treasures
By BO LEUNG | China Daily | Updated: 2018-02-12 18:40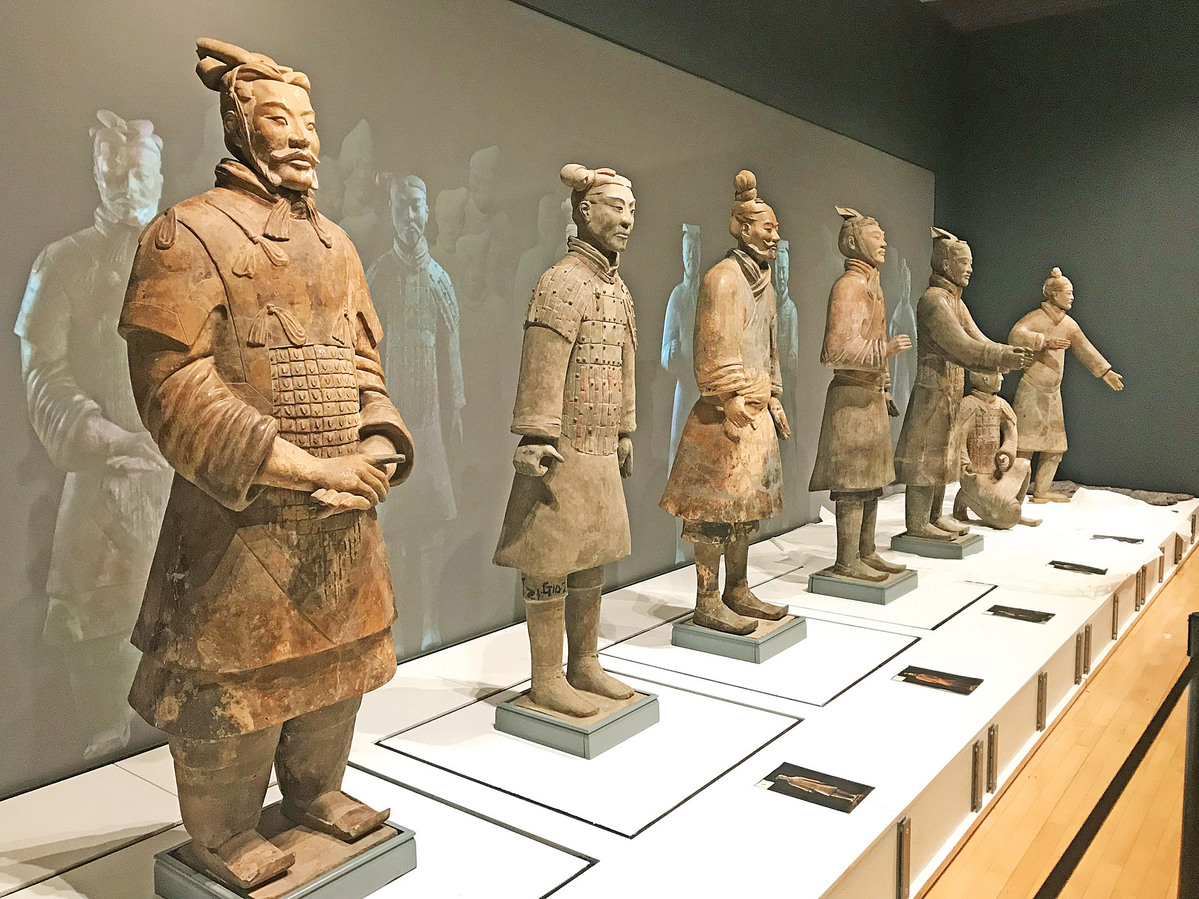 Relics from an emperor's world 2,200 years ago now stand in a UK museum
Holding an exhibition that features genuine Terracotta Warriors is, as you might expect, far from a straightforward process. A museum in the British city of Liverpool has become the latest institution to find out just how complicated it is to ship priceless and fragile ancient artifacts half way around the world, after having been loaned some of the famous figures from China.
Curators from National Museums Liverpool and a team from the Shaanxi Cultural Heritage Center worked together on the project to bring 10 2,200-year-old clay figures to Liverpool, including a terracotta cavalry horse and more than 180 smaller artifacts. They traveled all the way from Xi'an, in Northwest China's Shaanxi province.
The move followed years of preparations and planning by both parties before the relics could leave home.
The preparations to transport cultural relics overseas for such an exhibition begin at least three years before the show is set to open, according to the Shaanxi Cultural Heritage Promotion Center.
"It took a long time negotiating the details of the exhibition. We started talking to colleagues in China at the end of 2015," said Fiona Philpott, director of exhibitions at National Museums Liverpool. "We made more than six trips to China."
Philpott said she gave her Chinese counterparts a request detailing the items the museum in Liverpool would love to display, which then needed approval from China's State Administration of Cultural Heritage.
Back and forth discussions meant there were many changes to the original plans. Sometimes, a specific object could not be loaned out because it was already on loan to another museum.
Once the plan was approved, experts from Liverpool then traveled to China to examine the relics.
"We sent our own curators out to China in early January for last checks," Philpott said. "It is a remarkable achievement that material can travel more than 5,000 miles between continents so well. That's really all credit to the skill of the staff who pack and prepare this material for transport."
Before the handover of the items, condition checks were carried out in Xi'an.
Experts from both sides carried out detailed inspections of the relics, looking out for things such as cracks and stains.
The details were recorded, signed, pictures were taken and a bilingual copy of the results made. The process can take several hours for each piece, depending on the object.
Experts examined each relic carefully again when they arrive on site at Liverpool's World Museum and, after the exhibition ends in October, the objects will go through the same process before they are returned to China.
Wu Haiyun, project manager at the Shaanxi Cultural Heritage Promotion Center, said loaning its national treasures to overseas institutions is something that is taken very seriously.
"For our part, in order to loan our cultural relics, we have repeatedly negotiated with the British side," Wu said. "Especially in insurance and safe transportation, we have made a lot of safety requirements to carry out the exhibition smoothly."
The traveling objects are packed according to their shape and size; some figures can weigh up to 300 kilograms.
They are packed by skilled handlers who use acid-free paper and are then put into specially-constructed crates that have a material lining to absorb shock and prevent moisture. Special plastic wrap is used to seal each container.
The vehicles used to transport the historical items have dampening devices and are not allowed to travel faster than 80 kilometers per hour. The vehicles' journeys are recorded by China's Ministry of Public Security.
"Clearly, with material that's more than 2,000 years old, it's all going to be difficult to transport," said Philpott. "So, everything has to be very carefully created. Everything is conditionally checked before it's packed and transported."
Other things that had to be done before the Terracotta Warriors could be sent to Liverpool included the upgrading of the museum's security system and the installation of additional security cameras.
The relics arrived in late January by plane and the installation of the Terracotta Warriors into the exhibition took a further two weeks.
Wu said the exhibition was made possible through joint efforts between the United Kingdom and China, and was thanks to the work of thousands of people.
"From both the UK and China, we have four restoration experts, professional experts in cultural relics, a specialized company that packs and ships relics, a company that specializes in special artifacts, and companies that specialize in lighting, temperature, and humidity," he said.
The discovery of the Terracotta Warriors in Xi'an in 1974 by farmers digging a well led to one of the most significant archaeological excavations of the 20th century.
Since then, archaeologists have uncovered three large pits of life-size Terracotta Warriors to the east of the mausoleum of Emperor Qin Shihuang, each with their own individual clothing, hairstyles, and facial features, along with horses and war chariots.
More than 2,000 figures of warriors and horses, as well as other objects, including chariots and weapons, have been unearthed. Experts believe there is likely around 8,000 figures in total.
The Terracotta Warriors were assembled more than 2,200 years ago for China's first emperor, Qin Shihuang, because it was believed the army would protect him in the afterlife. The emperor's mausoleum remains unopened.
Philpott said the whole experience of bringing some of the Terracotta Warriors to Liverpool was positive. And she said there could be future collaborations with China.
"I know there's interest in the possibility of perhaps touring our own collections in China in the future," she said. "That would be something we would really like to do."
Matt Hancock, secretary of state for the Department for Digital, Culture, Media and Sport, said: "The Terracotta Warriors are an iconic cultural treasure produced by ancient China. Bringing them to Liverpool is a real coup and testament to the strength of the UKChina cultural relationship."
Hancock added that the exhibition will boost tourism to the region, attract visitors from across the UK and Europe, and highlight Liverpool as a world-class destination for arts and culture.
Related Stories