Small station, big responsibility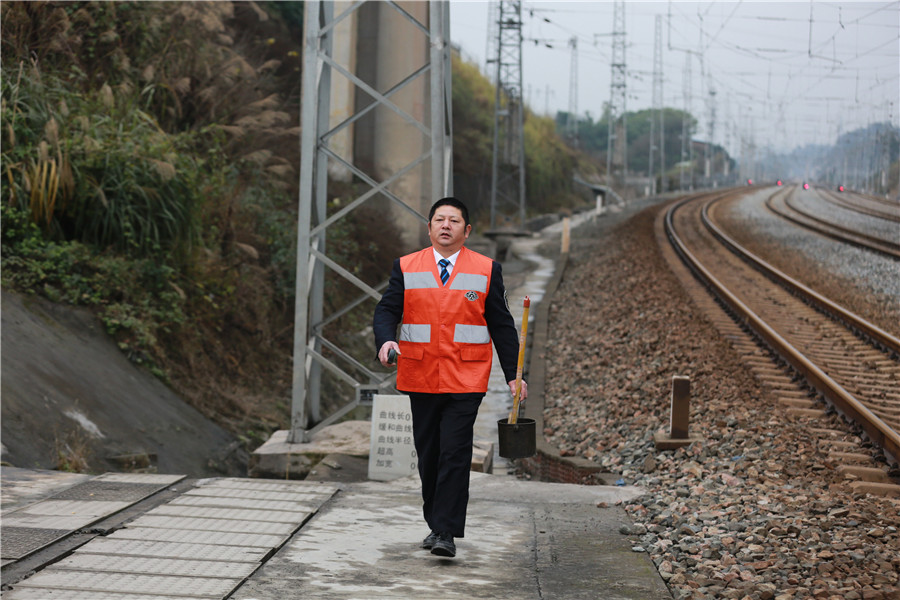 When the green light comes on, a bullet train speeds through the Geleshan Railway Station. Within a few seconds, silence returns.
Shao Peng looks at his watch – it is 12:54 on the afternoon of Feb 11, day 11 of the Spring Festival travel rush.
The G8509 is one of 80 pairs of trains that run through the Geleshan Railway Station each day. It is a small station at the foot of Gele Mountain to the west of Chongqing municipality in Southwest China.
As a level-five station, the lowest level in China's rail network, it has neither ticket offices nor crowded waiting rooms. It is located on the important high-speed line that connects Chongqing and Chengdu, the capital city of Sichuan province.
Safety is the top concern at the railway workers' job. When on duty, the use of mobile phones is forbidden to ensure safety of the trains passing by.
Owing to the remoteness of the station, the staff workers live a rather lonely life. They have difficulties going to the market to buy fresh vegetables. So, they grow vegetables such as peppers, pumpkins and tomatoes in plots behind the station houses themselves.
Zhou Jianguo, 49, is head of the station and has been working there three years. For him, spending the Spring Festival, a traditional occasion for family reunion, away from work is a true luxury.
Zhou said since he began working in the railway system in 1991, he has only spent Spring Festival with his families five times.
Zhou said when he misses his son, he takes out his mobile phone to look at his pictures. He said this year most of the workers will not be able to spend the Spring Festival with their families as usual — instead, they will bring some home delicacies to the station, celebrating the Chinese New Year together.
Shao Peng, 26, is the youngest staff worker in the station. "I have not gone home for the past two years," he said. "This year, I will spend the Spring Festival with my co-workers. The station is also our home."