The importance of Chinese New Year in the UK has increased with the rise of the Chinese community
By Bo Leung in London | chinadaily.com.cn | Updated: 2018-02-14 02:55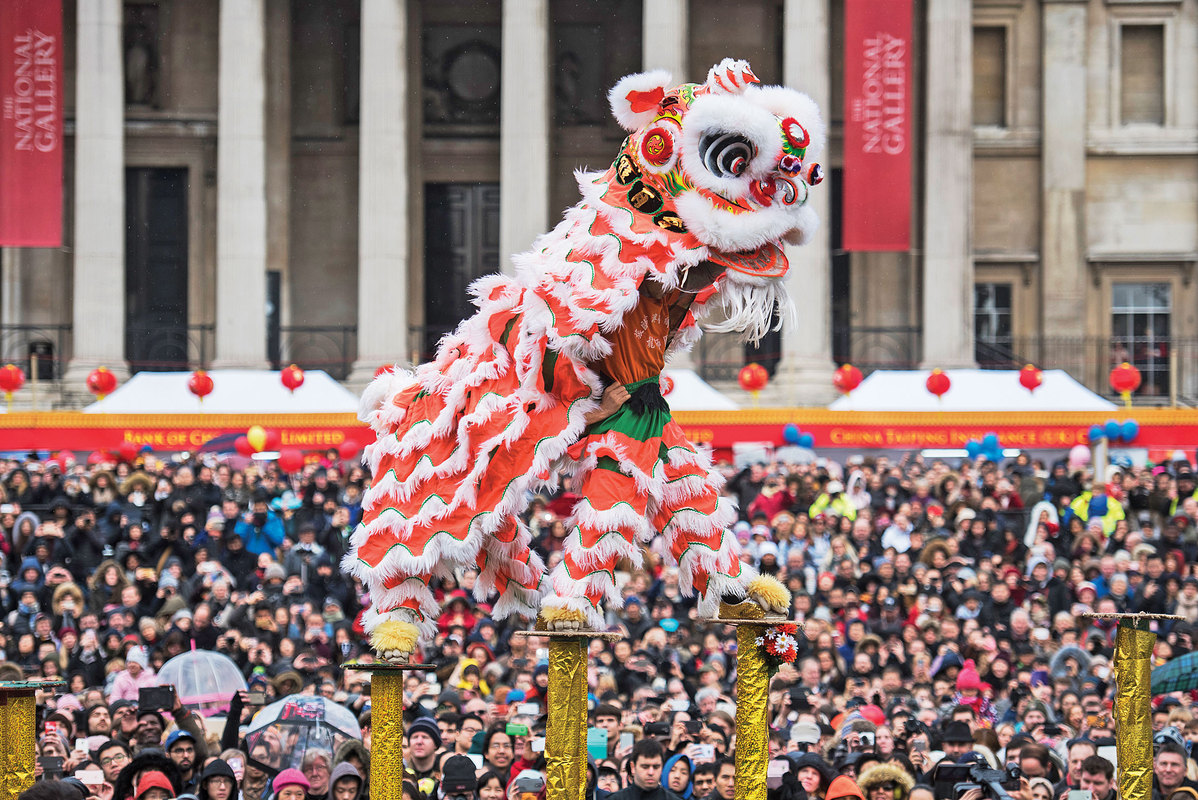 Celebration's growth shows significance of China to the UK
In 1685, Shen Fu-tsung became the first Chinese person to visit the UK. A Christian convert, he catalogued the Chinese collection of Oxford University's Bodleian Library, and King James II had Shen's portrait painted and displayed in his collection.
Since then, thousands of Chinese have arrived in Britain, but it was only in 1963 that the Lunar New Year was first celebrated in London's Gerrard Street, the center of what was becoming the city's Chinatown.
At least 430,000 ethnic Chinese now live in the UK and as that population has grown, so have New Year festivities. This year, there could be as many as 100 events nationwide, from London's parade to smaller regional parties.
Chinese New Year's importance has increased as the UK's Chinese community has become more integrated, but also as a result of China's rise as a world power.
In UK schools, Chinese children perform better than any other ethnic group, including white Britons. In exams taken at the age of 16, 77 per cent of Chinese achieved five good grades, 20 per cent above the national average. Subsequently, Chinese students' university entrance rate - 58 percent - is also the highest of all ethnic groups.
But whilst earlier immigrants, mostly from near Hong Kong, have blended in quietly, the arrival of Chinese investment and students from the mainland and Hong Kong have raised the profile of the community - and its celebrations.
In 2017, Chinese companies invested 15 billion pounds ($20.8 billion) in the UK, and more than 90,000 Chinese students are enrolled at British colleges. According to VisitBritain, in 2018 349,000 visitors from China are expected to spend about 722 million pounds in the UK.
This year's Lunar New Year, also known as Spring Festival, falls on February 16, and will be celebrated across the UK. It also heralds the arrival of the Year of the Dog, the 11th of the 12 animals in the Chinese Zodiac.
Londoner Andy Leung has been involved in the city's Chinese New Year celebrations for several years, as a performer and producer, and watched them grow.
"When I got involved it was still a community event, run by and purely for the Chinese community," he said. "It wasn't purposely put on to attract tourists."
But over the years, it has grown, moving to Trafalgar Square. This year's event is expected to attract 200,000 people.
"We have more major London companies and city officials and offices involved, making it the huge event it is now," Leung said.
As more people from different communities join in, Chinese New Year phrases like gong xi fa cai in Mandarin Chinese, or gong hei gat choy in Cantonese, will be used by people from non-Chinese communities.
"With the rapid economic growth in China, the information and culture exchanges between the two countries have increased greatly," said Li Chungwen, dean of London's Ming-Ai Educational Institute. "More British visitors have been to China and therefore have a better understanding and perspectives on the Chinese culture."
She added that the UK's Chinese community plays an important function in promoting Chinese culture because it understands the needs of both Chinese and British people.
"The local Chinese community also act in different roles to promote Chinese culture in the UK, and bringing provincial cuisines, arts and cultures to the British public," said Li.
Peter Lam, president of the London Chinatown Chinese Association said, "The celebration is a good opportunity for all the communities to join in for fun and friendship. We are pleased to welcome many new groups participating in the parade, not just from China but also from different local schools and clubs around London and the UK. We hope this will bring prosperity and good fortune to everyone."
New Year celebrations are no longer confined to Chinatowns, with many UK retailers using the holiday to entice Chinese consumers with themed products or events.
Many in the UK's Chinese communities observe Lunar New Year traditions such as giving out red envelopes with money, but as a new generation of British-Chinese gradually assimilate, some fear these traditions could fade.
"The British Chinese has a unique culture, so we have set up a cyber platform - British Chinese Heritage Centre - to preserve the Chinese tradition by collecting and collating different Chinese culture heritage in the UK, for example British Chinese workforce development, British Chinese food and British Chinese Armed Forces," said Li.
"This information is vital to the Chinese who are brought up in the UK."