Big surge for snowball effect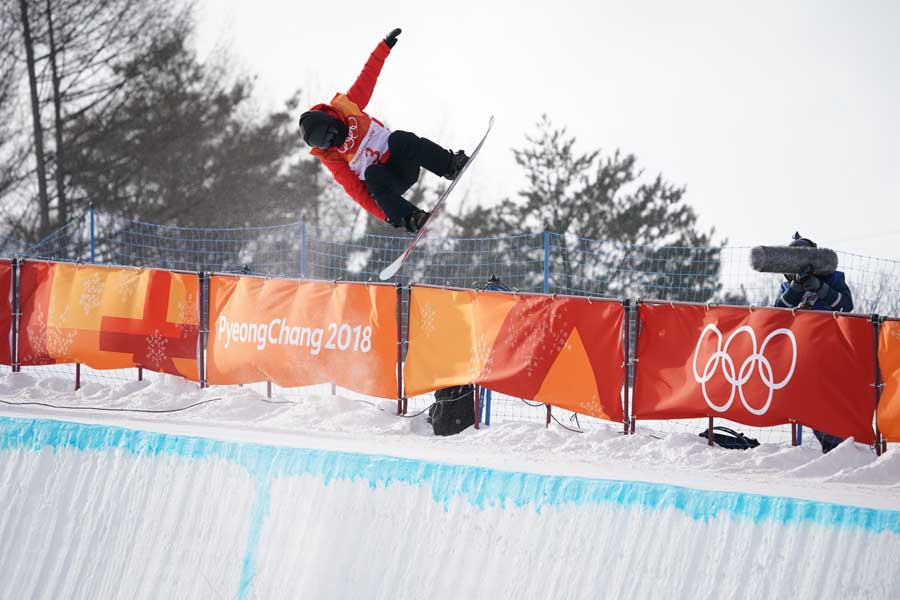 Halfpipe hero Liu's silver medal provides huge boost in nation's drive to grow winter sports sector ahead of 2022 Games
Snowboarder Liu Jiayu's historic silver medal in the ladies' halfpipe at the Winter Olympics on Tuesday represents a major boost in China's drive to grow its burgeoning winter sports sector.
After becoming China's first snowboard medalist, Liu said the exposure her feat will give the sport back home was more satisfying than winning the medal.
"For me, to win a medal is exciting personally, but to draw more attention to the sport back home and to promote its spirit of always staying upbeat no matter what makes me even happier," said the 25-year-old, who was beaten to gold by American teenager Chloe Kim at Phoenix Snow Park.
In a country where skating events usually enjoy the lion's share of the TV ratings during the Olympics, Liu's runner-up showing went viral on Chinese social media, with more than 4.5 million users viewing footage of her final run on Sina Weibo within three hours of the event's finish.
Liu's compatriot Cai Xuetong, who placed fifth in the halfpipe final, echoed her teammate's sentiment.
"I really hope more and more fans will pick up the sport after watching us compete here," said Cai.
"If people try it at the resorts after watching on TV then we all will feel pretty rewarded for triggering that interest," said the two-time world champion.
Still a relative newcomer to snow-based sports, China has been steadily catching up on its Western rivals. These Games are the first time China has qualified six snowboarders - four women and two men - for the halfpipe, while women's normal hill competitor Chang Xinyue is the first Chinese to make the cut for an Olympic ski jumping competition.
The men's bobsled and skeleton will feature Chinese competitors for the first time, while the presence of Chinese skiers on the alpine, cross-country and biathlon courses have become hot topics among international media.
Winter boom
Back home, grassroots participation in winter sports, particularly snow events, is entering peak season in China as the Spring Festival holidays begin.
Despite the chilly weather, families have been flocking to artificial slopes at the Happy Ice and Snow Carnival at the Bird's Nest Stadium in north Beijing, breathing new life into the 2008 Summer Olympics venue.
The crowds at the carnival, which features over 20 kinds of activities, provide yet more evidence of the increasing enthusiasm for winter sports as Beijing prepares to host the 2022 Winter Olympics.
The carnival has attracted over 1.6 million visitors since its debut in 2009, with another 300,000 expected to enjoy its chilly thrills during the 2017-18 winter season through early March, according to event manager Guo Runsheng.
"It's obvious that people have become more interested in taking part in winter sports and leisure activities with the Olympic Games going on in our neighboring country. It's kind of a fashion now to get involved in winter sports," said Guo.
Skiing, meanwhile, is attracting the country's middle class in increasing numbers, as evidenced by the heavy traffic and booked-up hotels almost every weekend in Chongli, a mountain district in Zhangjiakou, Beijing's 2022 co-host city in Hebei province.
Situated about 240 km northwest of Beijing, Chongli has built seven major ski resorts. The district welcomed 2.68 million visitors during the 2016-17 season and is expected to accommodate more this winter, according to the local government.
"Now we see more and more kids picking up the sport at a very young age, which reminds me of the participation in skiing among toddlers at the resorts where we train in Europe and North America," said Cai, who was crowned world halfpipe champion in 2015 and 2017.
"I just hope that our performance in Pyeongchang will galvanize the rising public passion for the sport, which remains in its infancy, to make it more popular."
In preparation for the 2022 Games, China has unveiled an ambitious plan to build a total of 650 skating rinks and 800 ski resorts in five years, up from about 200 and 600 respectively now, laying the foundation for 300 million people to participate in winter sports.
It's estimated that the market will be worth around 1 trillion yuan ($158 billion) by 2025.
With greater accessibility, the country's winter sports body believes skiing and skating could break out from their traditional seasonal limitations to become year-long activities.
"We want to change the public perception that skiing and skating are only sports for winter. They are actually sports available all year long just on ice and snow," said Ding Dong, a deputy director of the National Winter Sports Administration.
"The construction of more mall-based skating rinks in southern cities and even some indoor skiing venues will bring the fun of ice and snow sports closer to the public"