Canuck firm goes for gold in market
By Wang Zhuoqiong | China Daily | Updated: 2018-02-15 09:07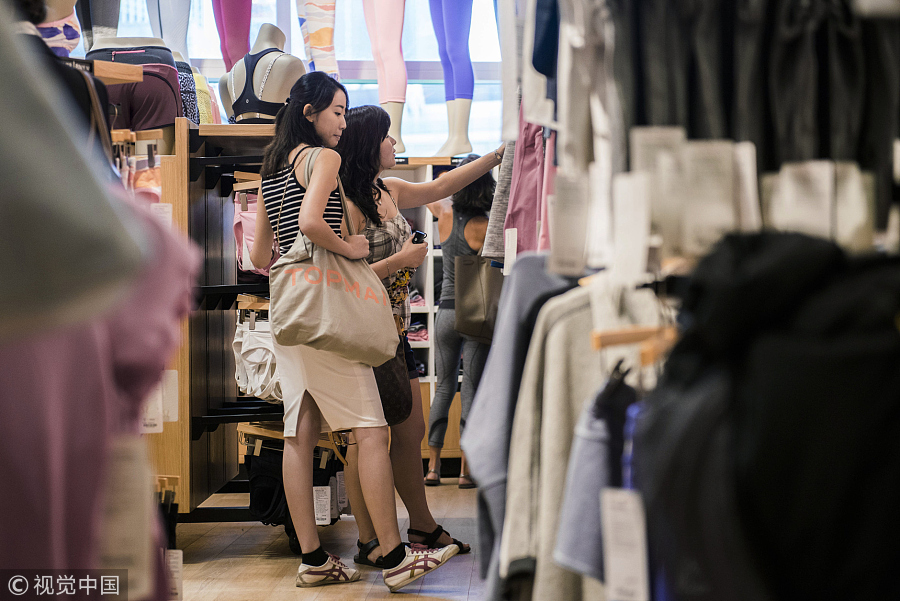 Canadian athletic apparel retailer Lululemon Athletica Inc said it expects to cash in on China fast-growing passion for sports and keeping-fit by opening more brick-and-mortar stores in major cities, as well as expanding its reach online.
So far the yoga-inspired brand for men and women, started in Canada in 1998, has established 10 stores in China while globally Lululemon had 425 stores in operation by the end of last year. According to the company it has achieved its highest level of brand awareness in Canada, at 80-85 percent of the market, while in the US its brand awareness is 45-50 percent and in China it is about 12 percent.
The company, however, considers its brand awareness in China actually to be quite high, especially in cities like Shanghai and Beijing. It said it will continue to build a significant and sustainable business in the country, starting with a presence in local communities, hooking up with gyms and sports studios, and understanding where people get together to work out-rather than making a major push with heaving marketing or in television commercials.
Lululemon said its strategy is to start with tier-one cities and initially populate them with six or seven stores, before branching out, and to date it has achieved average growth in the Chinese market of about 350 percent annually.
Last year the brand expanded its presence to Guangzhou, Shenzhen and Chengdu as well as expanding its digital footprint on WeChat and Tmall. The company said its Tmall business in 2017 surged by 175 percent, fueled by a more-than-doubling of online traffic.
Lululemon says yoga fashion is a $10 billion market in China and its stores there achieved profitability of $15,000 per square meter in 2017, much higher than its stores in North America.
The Canadian group says it is in a high-end market, driven by innovation, and has a vertical business structure. This means it has directly-operated stores-rather than the wholesale model many sportswear brands have adopted in China-which has been key to its successful performance in China.
Research and development and technology has also played its part in boosting sales. The company launched its "Enlight Bra" last May-after two years of research in collaboration with several universities, as well as working with a number of athletes-which was the most expensive bra it had ever sold. Although priced at $98, however, two weeks after its launch it had become the company's top-selling bra.
The men's category is also a key driver in China and will continue to be so, Lululemon said.
Lululemon's global revenue by 2020 is expected to hit $4 billion. The company said of that, $1 billion would come from its international operations, $1 billion from digital sales and $1 billion from menswear.
According to the company women and life partners are the largest buyers of its menswear products.
The company estimates that internationally, 80 percent of its revenue comes from women's products. In China, however, the bulk of its sales is in menswear.