Chongming clinches two more major races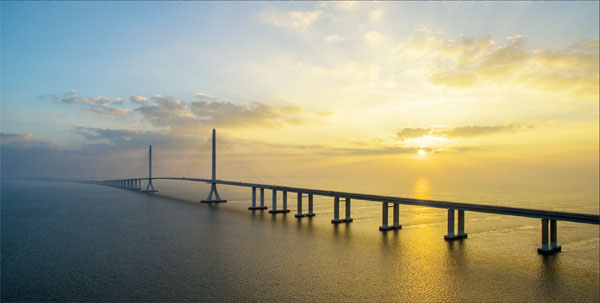 Shanghai's Chongming district has been chosen as the venue for an Ironman 70.3 triathlon and a Rock 'n' Roll Marathon in a further boost to the area's burgeoning status as a major international sports venue.
The Chongming district government on Friday signed an agreement with Wanda Sports to jointly stage the events in the island district, with both taking place in October this year.
Wanda Sports, which owns and operates the events, will be responsible for their operation, publicity and promotion and will provide support toward the construction of a Chongming sports-themed town, stadiums and other infrastructure.
Debuting in Hawaii in 1978, Ironman is one of the world's biggest triathlon brands, accounting for 91 percent of the global market in long-distance triathlons.
Ironman 70.3, aka Half Ironman, is so called because the race totals 70.3 miles (113 kilometers) in distance-comprising of a 1.2-mile swim, a 56-mile bike ride and a 13.11-mile run. Each segment features half the distance of a standard Ironman triathlon.
Wanda Sports, a company owned by the Chinese conglomerate Dalian Wanda, acquired the brand in 2015.
The company bought the rights to the Rock 'n' Roll Marathon Series last year.
The race, which was first staged in 1998, is known as the "world's largest running series", with more than 500,000 people taking part annually in 30 cities worldwide along routes lined with live bands, cheerleaders and themed water stations.
"By inviting more international competitions to the island, we hope to promote the development of Chongming as an international ecoisland," said Liu Chun, deputy general manager of Wanda Sports.
"Signing up these international sporting events will help to stimulate the comprehensive development of a sports, tourism and culture industry in Chongming."
Chongming was earmarked for development into an ecological island in 2001.
Fifteen years later, the municipal government announced plans for it to also become a major international outdoor sports leisure brand.
After more than a decade of construction on the island, Chongming is now home to a number of ecological reserves, such as the Xisha Wetland and Mingzhu Lake, which makes it "an ideal venue" for various international sports events, according to Wang Jing, deputy governor of Chongming District.
The island holds at least 50 district-level sports competitions every year as well as many international events, including a stop on the UCI Women's Road Cycling World Cup.
"We are aiming to attract more people to participate in sports, outdoor activities and entertainment in Chongming and to build Chongming into an outdoor enthusiast's paradise," said Wang.