FIFA World Cup Trophy excites Ugandans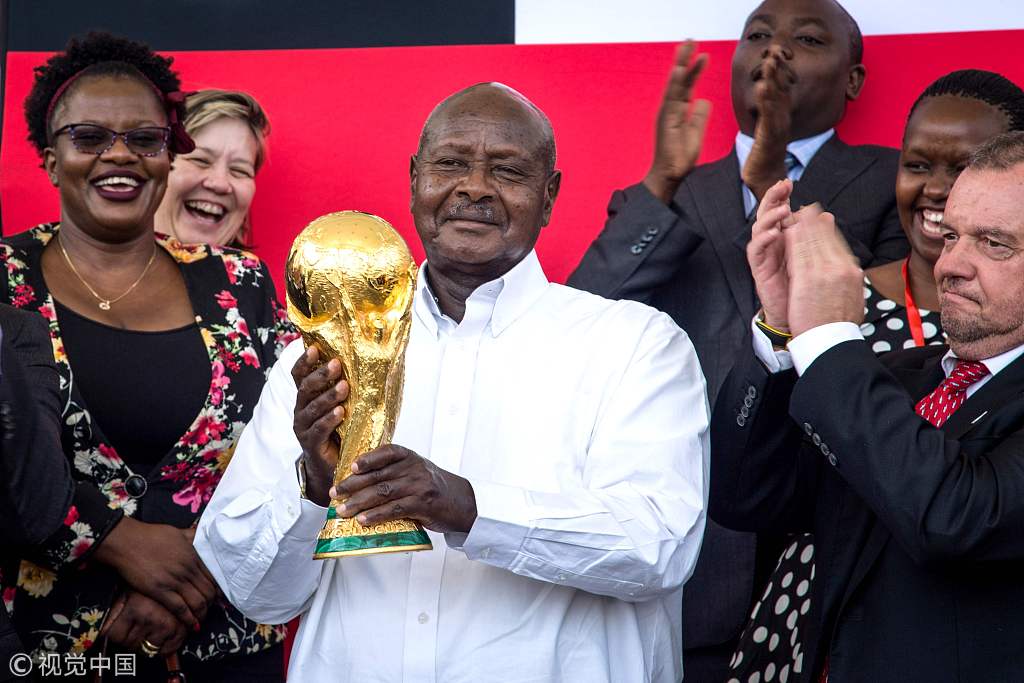 KAMPALA - Football loving Ugandans showed lots of excitement on Tuesday when they had the chance to view and take pictures with the FIFA Wold Cup trophy at the Serena Hotel and Lugogo Cricket Oval.
The glittering World Cup trophy arrived in Uganda on Monday morning from Cape Town, South Africa and was hosted at the State House in Entebbe by President Yoweri Kaguta Museveni. The President said it is only a matter of time and Uganda will also qualify for the World Cup.
Driving the trophy from Entebbe to Kampala all caused excitement among the local population with many enduring the bad weather to view the trophy at the Lugogo Cricket Oval.
"It feels great that I have seen the World Cup trophy for the first time instead of just seeing it on TV and magazine," David Ogwal told Xinhua at Lugogo. Another football fan Betty Mukasa said she is happy she managed to bring her three children who are glad they have seen the World Cup trophy.
Edgar Watson, the Chief Executive Officer of the Uganda FA said it was good that FIFA always takes this trophy to many countries around the world as a way of advertizing the World Cup more.
Later on Tuesday the trophy was driven back to Entebbe International Airport before it heads on its next journey to Nigeria, Senegal, Ivory Coast and then Egypt, before it leaves Africa for Europe. Only ten countries in Africa have been granted the chance to host the coveted trophy.
The FIFA World Cup trophy tour kicked off last September in host country Russia and will visit more than 50 countries and regions across six continents, traveling 126,000 kilometers in nine months in the lead-up to the football tournament. The trophy will tour Beijing on April 25th and Shanghai on April 26th.
This year's FIFA World Cup will be held from June 14-July 15, 2018 in Russia. Africa will be represented by Nigeria, Senegal, Tunisia, Morocco and Morocco.