Lakers put on show for LeBron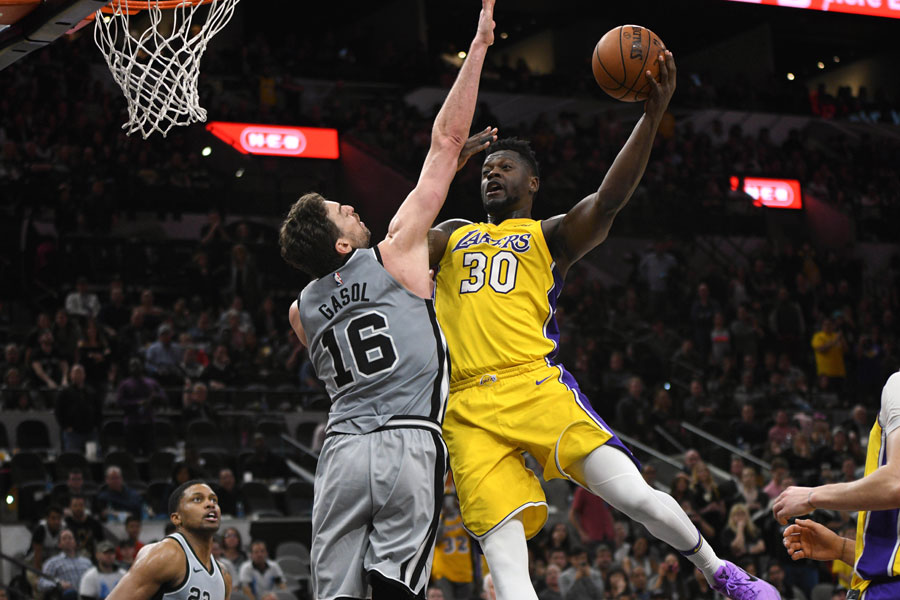 LOS ANGELES - If Sunday's game against the Cleveland Crusaders was a Hollywood audition, the young Los Angeles Lakers certainly did well enough to impress budding entertainment mogul LeBron James.
Julius Randle had a career-high 36 points, 14 rebounds and seven assists as the Lakers put on a dazzling show in front of James with a 127-113 victory over the Cavs.
Isaiah Thomas had 20 points, nine assists and five rebounds against his former team as the Lakers roared away from the defending Eastern Conference champions in the second half with their exciting, energetic style under coach Luke Walton.
The Lakers looked hungry, exciting and full of potential. They hope that's attractive to James, who can become a free agent this summer and might consider a move to the West Coast.
"Since Luke took over, they've improved every single season, I think," said James, who had 24 points, 10 rebounds and seven assists.
"They just try to implement that ball movement, that body movement that he got when he was in Golden State."
Although nobody on either side is able to talk about it yet, this game seemed to carry added importance for both the Lakers and James, who will be at a crossroads shortly in his incredible career.
Magic Johnson has spent the past year making moves - including the trade that sent Larry Nance and Jordan Clarkson to Cleveland last month - to get the Lakers into prime salary-cap position to chase elite free agents this summer.
The top name on that list is likely to be James, who has a player option for next year.
The three-time NBA champion already has a $23 million mansion in suburban LA and a burgeoning career in entertainment production, so a move to the Lakers would be a logical step.
But James, who previously left the Cavs to spend four seasons with the Miami Heat, is unlikely to join a team that can't immediately contend for titles with his addition.
Associated Press