T-Wolves go to Towns to clip ailing Warriors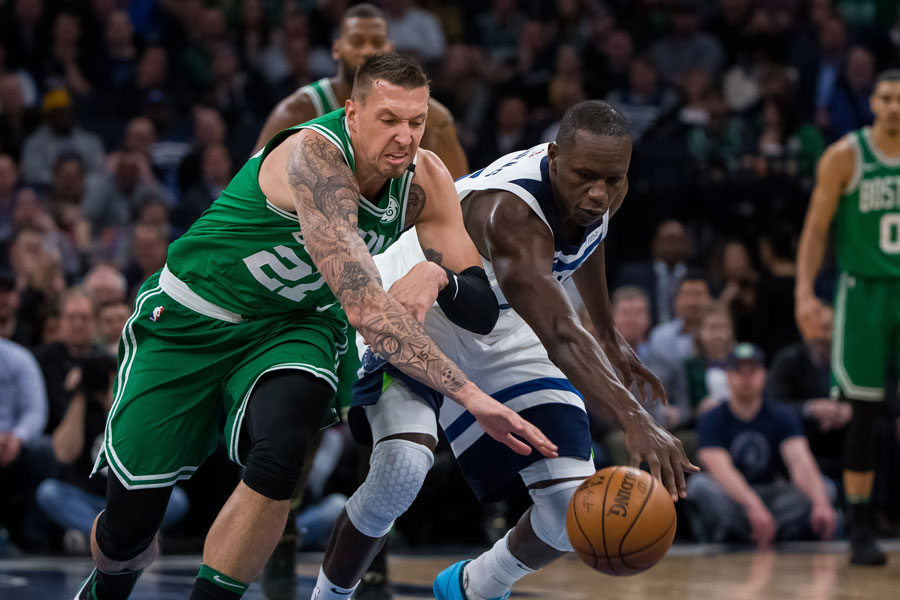 Minnesota center dominates Curry-less Golden State squad
MINNEAPOLIS - As Minnesota's measuring-stick matchup with Golden State hung in the balance on Sunday, the Timberwolves turned the game over to Karl-Anthony Towns.
The flashy young center didn't disappoint.
Towns helped Minnesota stop a season-high three-game losing streak with 31 points and 16 rebounds as the Timberwolves powered their way to a 109-103 victory, handing the Warriors their second straight loss without star Stephen Curry.
"Obviously it's humbling that they respect the work I put into my craft," said Towns, who had 14 points in the fourth quarter.
"I'm blessed with the opportunity to catch the ball with that kind of situation and be able to capitalize."
Kevin Durant had 39 points and 12 rebounds for the Warriors, who left Curry at home to rest an injured ankle and lost 125-108 to Portland on Friday.
Durant made just 11 of 32 field goal tries.
"I'm very confident in where we're heading," said Golden State coach Steve Kerr, whose team fell two losses behind Western Conference leader Houston. "But we're in the middle of a tough stretch."
Andrew Wiggins added 23 points for the Timberwolves, who lost twice on the road to the defending champion Warriors earlier this season by a combined 37 points, with Curry a collective plus-36 over those two games.
With their spot in the ultracompetitive Western Conference standings slipping while All-Star Jimmy Butler recuperates from right knee surgery, the Wolves needed this win in the worst way in the thick of a daunting stretch of their schedule.
Minnesota is tied for fifth place, but only 1 1/2 games above the cut for the playoffs.
Towns made his All-Star presence felt when it mattered most, swishing a 3-pointer with 5:54 left to give the Wolves a 99-92 edge for their largest lead since early in the second quarter.
He knocked down a floater from the lane with 2:18 to go and nailed a fadeaway with 1:08 remaining. Then he dropped in a layup following his own miss with 37.5 seconds left to put the game away.
Towns stretched out his arms and cupped his hands to encourage the crowd as the last seconds ticked off the clock for the 13th sellout of the season for the Wolves - their most since 2003-04 when they last made the playoffs.
"The crowd was like a sixth player in the game. It was fun," said Nemanja Bjelica, who had 10 points and seven rebounds to give the whole Wolves starting lineup double-digit scoring.
Taj Gibson (11 points, 13 rebounds) and Jeff Teague (10 points, 10 assists) joined Towns with double-doubles, and the energy on defense was as high as it's been since All-Star Jimmy Butler went down with a knee injury six games ago.
"With Jimmy out, we have to understand how important that is," said coach Tom Thibodeau.
Klay Thompson had 21 points for the Warriors, who led by as much as 57-45 in the third quarter, but he went 3 for 12 from 3-point range.
Draymond Green added 10 points, eight rebounds and seven assists, but he had trouble defending Towns down low. Zaza Pachulia pitched in 16 points and 11 rebounds.
Still, Kerr was satisfied with his shorthanded team.
"As long as the effort is there, I'm fine with some bad shots," Kerr said. "More than anything, we just looked a little tired."
Coming off the bench while Javale McGee starts at center, Pachulia made his first seven shots to give the Warriors a big boost when fellow reserves Andre Iguodala (wrist sprain), Jordan Bell (ankle sprain) and David West (arm cyst) were held out again.
Pachulia had three assists, two blocked shots and a steal in 25 minutes.
"He keeps up his conditioning. He stays ready all the time. He stays positive," Kerr said. "I'm thrilled with Zaza."
Thompson sprained his right thumb during the game, the Warriors said, and backup Nick Young bruised his left hip. This will be another difficult week for the Warriors to grind through all these minor but not insignificant injuries.
"It's tough when you're missing that many key guys," Green said.
"But I think these guys will be back in time for us to find the rhythm that we need."
Associated Press
Most Popular
Highlights
What's Hot