Dance drama portrays poet's life
chinadaily.com.cn | Updated: 2018-03-13 15:04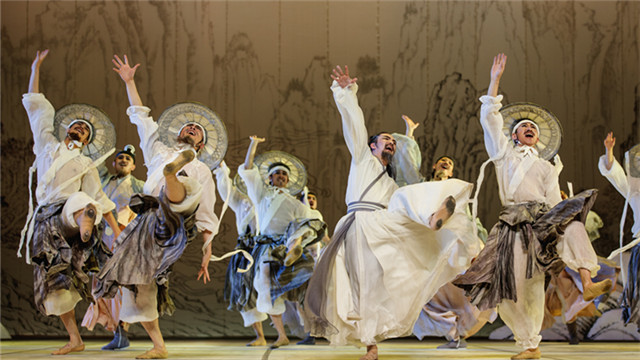 The production team decided to use a rhythmic and poetic body language to present the drama after deeply delving into Li's poems. Xu Ning, choreographer of Li Bai, said "by fusing Chinese classical dance with modern aesthetics, we transformed his poems into dance, giving the drama a natural contemporary feel."
The stage was decorated in gold and black, a color match inspired by the architecture style in the "golden age" of the Tang Dynasty, Li's calligraphy and the landscape painting during the period of the Five Dynasties and Ten Kingdoms (907-960). The color combination is an ingenious pairing, with gold symbolizing the poet's worldly pursuits and black his poetry.
Two traditional Chinese instruments were featured heavily in the dance drama: gu qin, a seven-stringed zither and xiao, a vertical bamboo flute. The music played by gu qin stands for the shackles of society and the sound of xiao expresses the poet's wish to free himself from those shackles.
Yang Xiaoyu contributed to this story.