'Grand coalition' party leaders identify key priorities for new German govt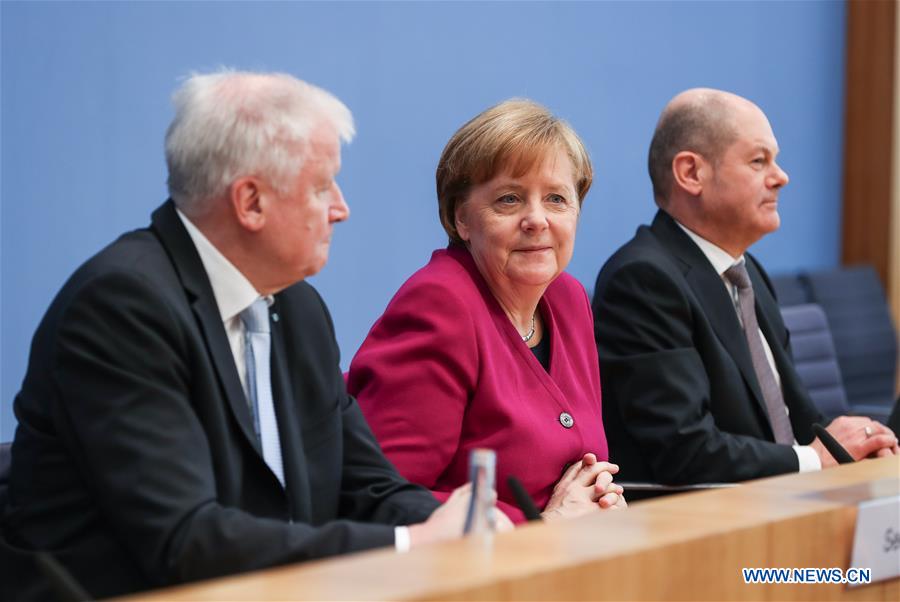 BERLIN -- The leaders of the Christian Democratic Union (CDU), Christian Social Union (CSU) and German Social Democrats (SPD) revealed the key priorities of Germany's new federal government on Monday.
Speaking to the press before the "grand coalition" agreement is signed in a formal ceremony, German Chancellor and CDU leader Angela Merkel called for the swift implementation of the policy proposals listed in the document.
"The time has finally come to begin working," Merkel said, in a reference to the six months it took to form a coalition government since federal elections were held. She highlighted the need for governing parties to renew a "promise of wealth" to citizens to reassure them in the face of deep-seated structural changes associated with globalization and digitalization.
"The prosperity of our country must reach everyone," Merkel said. The chancellor stressed the need to ensure that economic momentum and low unemployment would be preserved during the next parliament.
The CDU leader also drew attention to eurozone reforms as a key priority for Berlin. The entire federal cabinet was of the conviction that the banking and capital markets unions needed to be completed rapidly as crucial step in the institutional development of the single currency.
Today's Top News
Editor's picks
Most Viewed