Battery giant buys stake in lithium firm
By Jing Shuiyu in Beijing and Hu Meidong in Fuzhou | China Daily | Updated: 2018-03-14 10:05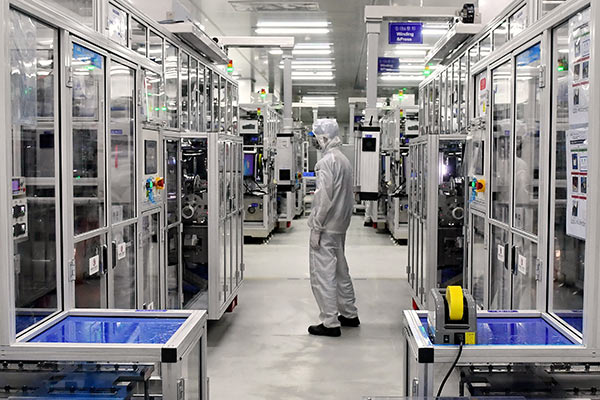 Move to help secure supplies of key raw material, increase production capacity
Contemporary Amperex Technology Co Ltd, China's leading automotive battery maker, has purchased a more than 90 percent stake in a lithium company based in Canada, in a move to secure supplies of the key raw material.
The Fujian province-based company has also been preparing for an initial public offering, which, if successful, could make it the world's largest automotive battery maker by 2020.
Contemporary Amperex acquired 36.6 million shares of North American Lithium Inc from Jilin Jien Nickel Industry, according to a Jien statement. The deal was undertaken by CATL's Canadian subsidiary.
Jien, which purchased the lithium company in 2016 out of bankruptcy, said in a statement that it can no longer afford to fund the lithium project.
CATL expects to increase production capacity for lithium-ion batteries to 50 gigawatt-hours by 2020, chairman Huang Shilin told 21st Century Business Herald earlier.
In an updated prospectus submitted to China Securities Regulatory Commission, CATL reported about 4 billion yuan ($632.4 million) of net profit in 2017, up 31.4 percent year-on-year. Sales of automotive batteries rose 74.1 percent year-on-year.
The company's sales ranked first among the world's top battery producers in 2017, according to an analysis conducted by Shenzhen Gaogong Industry Research Co. So far, the company has set up branches in France, the United States, Canada and Japan.
CATL's rapid expansion came amid the country's push for electric vehicles, aiming to shift consumers away from internal combustion engines.
The current battery technology could be able to support long trips, while the rising cost of raw materials remains the biggest bottleneck for mass production, experts said.
The country's electric battery segment is poised for a shake-up in the next three years, partly due to the persistent excess capacity, they added.
The number of Chinese battery manufacturers dropped by 50 percent year-on-year to 100 in 2017, according to the China Automotive Technology and Research Center.
The lithium-ion battery segment has been dominating the battery sector in China.
Business orders go to bigger companies, while many small and medium-sized enterprises are facing bottlenecks such as low-end product mix and insufficient capacity utilization rates, said Wang Shaoping, general manager of Fujian-based Dynabat New Energy Science & Technology Co.
Due to the smaller scale of production capacity and with no key technology at hand, more small and medium-sized enterprises are likely to be phased out from the country's battery sector, Wang said.
Official data show that more than 70 lithium-ion battery manufacturers and ancillary businesses in China have gone bankrupt in the past three years.
Smaller manufacturers may opt for mergers with bigger companies to survive stiff competition, Liu Yanlong, secretary-general of the China Industrial Association of Power Sources, said at a seminar.