A pipeline for the stars of the future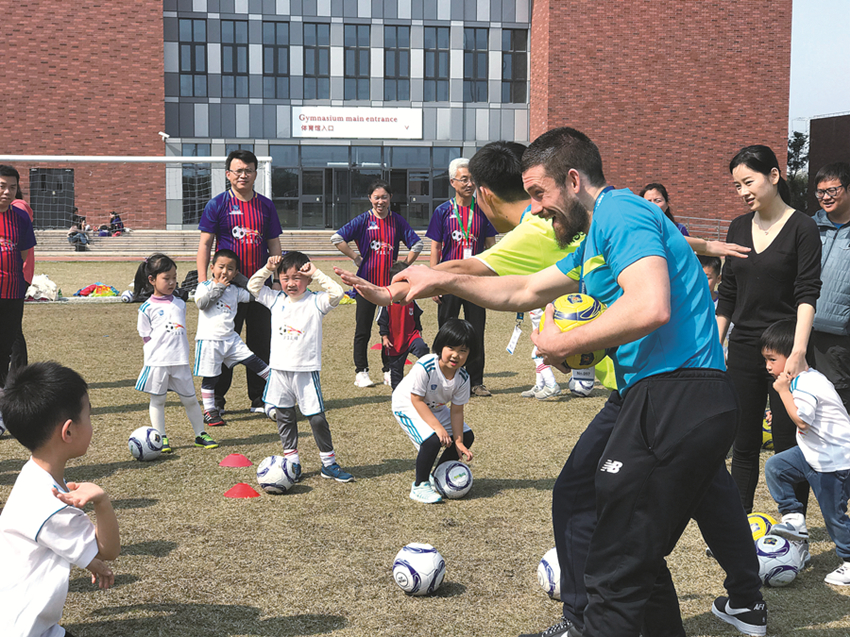 British restaurateur-turned academy owner hopes to give Chinese children a good head start in soccer by providing training sessions conducted by highly qualified coaches
Harry Spencer is best-known in Shanghai for being the owner of Mr Harry, a restaurant famed for its authentic British cuisine such as black pudding, Scotch eggs and the quintessential fish and chips.
But the London-born entrepreneur has since last year shifted part of his chips from the deep fryer to another industry: the youth soccer market.
Established in mid-2017 with his business partner Edward Epstein, a lawyer who has lived in China for more than three decades, Star Coaching is Spencer's latest business endeavor which provides two soccer training programs: Little Soccer Stars for kids aged 3 to 7 and Star Coaching Program for those aged 8 to 16.
A unique element of the Little Soccer Stars program is that parents are encouraged to join the training sessions. Spencer said he believes that this method of training would allow parents to foster closer bonds with their kids and cultivate a love for the sport in the household.
According to the Briton, the soccer academy currently employs three full-time coaches and five part-time coaches. All of them have coaching licenses issued by either the English Football Association, UEFA or FIFA.
Spencer said that Star Coaching is one of the few academies in the city that provides training for young children, noting that most of the classes by other companies are catered toward older children.
"We believe it is better that the kids get an earlier head start. Back in the UK, the children begin training the moment they can walk," he said.
"Our coaches have rich, international experiences and apart from valuable soccer skills, they can also help improve the English skills of these Chinese children."
Basketball may be widely considered a national sport in China, but recent studies have shown that soccer is quickly catching up in terms of popularity.
London-based brand valuation consultancy Brand Finance last year released a report revealing that soccer is now second in terms of fan numbers behind basketball in the nation. The report also showed that Chinese soccer fans are familiar with the English Premier League and Germany's Bundesliga. Chinese Super League club Guangzhou Evergrande was found to be the most popular in the country, while English Premier League side Manchester United came in second.
The China Fan Research 2017 report also pointed out that Chinese soccer fans are outdoing their basketball counterparts in terms of sports merchandise purchases.
The rise of soccer in China can be attributed to the central government's efforts in promoting sports in the country, as well as the objective to turn the country into a soccer powerhouse by 2050.
Spencer's foray into the sports industry began even before he set up Star Coaching, and his restaurant actually played a big part in it by acting as a platform where soccer was widely discussed between him and his customers, which included the likes of Rupert Hoogewerf, the chairman of Hurun Report.
Some customers have approached Spencer to inquire about opportunities regarding attracting soccer players and coaches to China. Once, he even helped a friend in England find a Chinese buyer for a soccer club.
Realizing that he was spending a lot of time on soccer-related matters, Spencer decided to forge a separate career out of this passion. In 2016, he joined the First Pick Group, a sports service company that specializes in soccer transfers, commercial deals, acquisitions and academies, as managing director.
Along the way, he discovered that though China was eager to elevate the quality of its soccer scene, a lack of qualified coaches was hampering progress. He recalled meeting youth coaches who were overweight and nonchalant about smoking in front of their trainees.
"Smoking might not sound like a big deal, but the children look up to these coaches as role models. They need to set a good example for the young ones," he said.
When asked about the differences between the soccer industries in China and the United Kingdom, Spencer pointed to fan culture.
"People in the UK are very passionate and loyal to their favorite teams. Fans in China have yet to reach that stage. That is why the soccer culture in the UK is much stronger than here," he said.
Luke Theakston, the coaching director of Star Coaching, said: "Soccer is still a relatively new sport in China that many people aren't familiar with. As such, starting an academy for youth is an ideal way to go about promoting the sport."
Star Coaching is currently cooperating with Dulwich College, Shanghai Jincai International School and Freesoul Kindergarten to conduct training sessions. Spencer said that the company is looking to enter partnerships with another three international schools in the near future. Plans to work with local schools are also in the pipeline.
Spencer is optimistic about his business prospects and the future of the sport in China.
"Chinese parents are the most focused parents in the world and they are paying a lot of attention to the development of their kids. Most of them have a very positive attitude toward football and see it as a means to help their kids grow," he said.
"We plan to have more than 1,000 children join our training sessions. The long-term plan for Star Coaching is of course to influence more Chinese youth to pick up soccer as a sport."