Chinese ice hockey team earns major milestone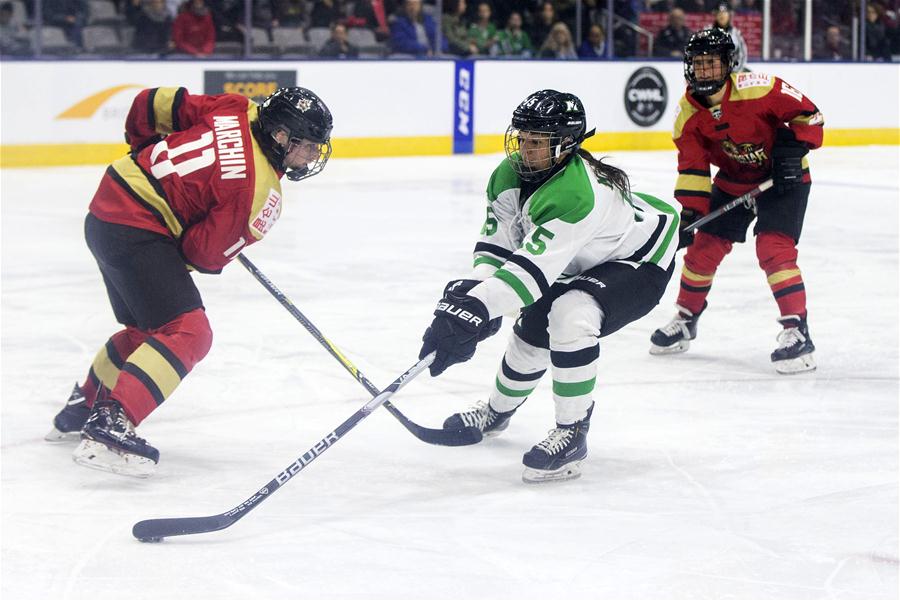 Chinese women ice hockey team Shenzhen Kunlun Red Star won runner-up in the Canadian Women's Hockey League (CWHL) on March 26, the best performance by China in world's top ice hockey leagues.
Canada's Markham Thunder won 2-1 over Shenzhen Kunlun Red Star in the final, with the winning goal in overtime.
Shenzhen Kunlun Red Star and Shenzhen Vanke Rays women's ice hockey teams took part in CWHL for the first time in Shenzhen on Nov 18.
"We based the national women's ice hockey club in Shenzhen, to popularize winter sports to the south, east and west of China in preparation for the 2022 Beijing Winter Olympics," said Li Yingchuan, deputy director of China's General Administration of Sport.
"The two teams will not only attract winter sports fans, but also people who don't know much about it," said Xu Jianping, deputy director of the General Administration of Sport of Guangdong province. "The success of Kunlun Red Star also led to the development of other winter sports in Guangdong province."
Besides the women's team, a 2022 Winter Olympics training camp started March 12 for the 2022 Winter Olympics. 30 domestic and ethnic Chinese players, most of them from the Kontinental Hockey League (KHL), Supreme Hockey League (VHL), and Junior Hockey League (MHL) teams of HC Kunlun Red Star, joined the camp, as reserves of the national ice hockey team.
"I will make a contribution to Chinese ice hockey," said Canadian Chinese player Zach Yuen at the training camp's press conference March 22. He is expecting to compete in the Ice Hockey World Championships and Winter Olympics as a member of Chinese men's national team.
Jussi Tapola, the new coach of HC Kunlun Red Star, was also unveiled for the first time at the conference. Tapola, 43, was the head coach of Tappara of the Finnish Liiga.
Most Popular
Highlights
What's Hot