Watchman moonlights as artist
By Zhang Kun in Shanghai | China Daily | Updated: 2018-03-30 07:34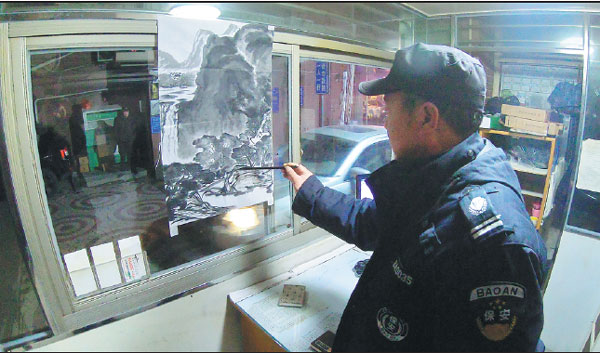 Ma Yibao paints on rice paper while working in the guard booth at a residential complex in Shanghai.Gao Erqiang / China Daily
Shanghai security guard uses downtime to paint landscapes and battlefields
Ma Yibao has become a local celebrity at the residential complex where he works as a security guard in Shanghai.
The 52-year-old migrant worker from Anhui province is an aspiring artist, and he spends his night shifts painting long scrolls, often dealing with the War of Resistance Against Japanese Aggression (1931-45).
He spent an entire year working on a 13-meter-long painting titled Nanjing Massacre, which depicts soldiers, fighter aircraft and civilian victims during the historic atrocity.
Some neighbors who have seen him painting at night have been sharing stories in a group on WeChat, which has helped draw widespread media attention to Ma's nocturnal hobby. He has also received interest from local media.
Every now and then, people come up to him in the guard booth by the community gate, asking whether he plans to make a public showcase of his works.
"Ma is the pride of our neighborhood," said Zhou Mengxue, a 78-year-old resident. "Having an artist in our midst makes our neighborhood special. We all wish we could see his paintings in a proper exhibition."
Chen Fan, a professional artist based in Shanghai, said amateur artists like Ma bring vitality to the local cultural scene.
"Creating art gives artists purpose and fulfillment in life, and as long as they have an audience, they are creating cultural products that mean something to the public," he said.
In the four years since he took the night watchman's job at the residential community's gate, Ma has completed work on several long scrolls. Each night after 9 pm, when fewer cars come in, he takes out his painting and works on it for hours.
"It keeps me awake and I also get my regular work done," Ma said while manning his post.
He often had to stop talking to operate the electronic gate to let vehicles in. "I don't have any formal art training. I just enjoy drawing and painting."
Twelve years ago, he came to work in Shanghai as a security guard. "I used to sit at the job for hours with nothing to do. I was bored so I began scrawling on pieces of paper," he said.
Colleagues who saw his doodlings were impressed, and their praise gave him confidence. Gradually, he began to take the scrawling more seriously.
Ma brought high-quality paper from his hometown in Jingxian county, Anhui, which for centuries has been a major production base for traditional rice paper.
He emptied the cartridge of his regular pen and refilled it with Chinese ink, which is better absorbed by the rice paper, and more enduring.
At first he drew the traditional buildings of his hometown - often by memory or from photographs - meticulously depicting various architectural details. Then he began using his art to tell others about life back home as he remembered it from his childhood: mainly drawing on memories of farming, festivals and weddings.
"We used to tease the groom when he approached our village, and make him set off fireworks along the way," he said, smiling.
"If we found him arrogant or unfriendly, we would give him a hard time, and make it especially difficult for him to reach the bride's home."
He also painted works depicting the hard labor involved in cultivating rice. "I could paint farming work better than any art student from a proper academy," he said with pride.
"I knew all the tools and used them adeptly."
Ma's guard booth isn't his only art studio. On his days off, he likes to take the metro around Shanghai, often choosing public parks to provide different painting and drawing subjects, and encourage greater artistic inspiration.
"Sometimes I admit I wasn't actually sketching in the park. I just wanted to be seen drawing - so that some proper artist might take notice and give me advice."
Next year, he plans to repaint Nanjing Massacre, because it was impossible to revise the painting on rice paper, and he is determined to make the piece perfect.
"It's an important incident in our history," he added. "Ordinary as I am, I want to address it, remember it, and memorialize it in my own way."