JOBS FOR AFRICA
By LUCIE MORANGI | China Daily Africa | Updated: 2018-03-31 02:23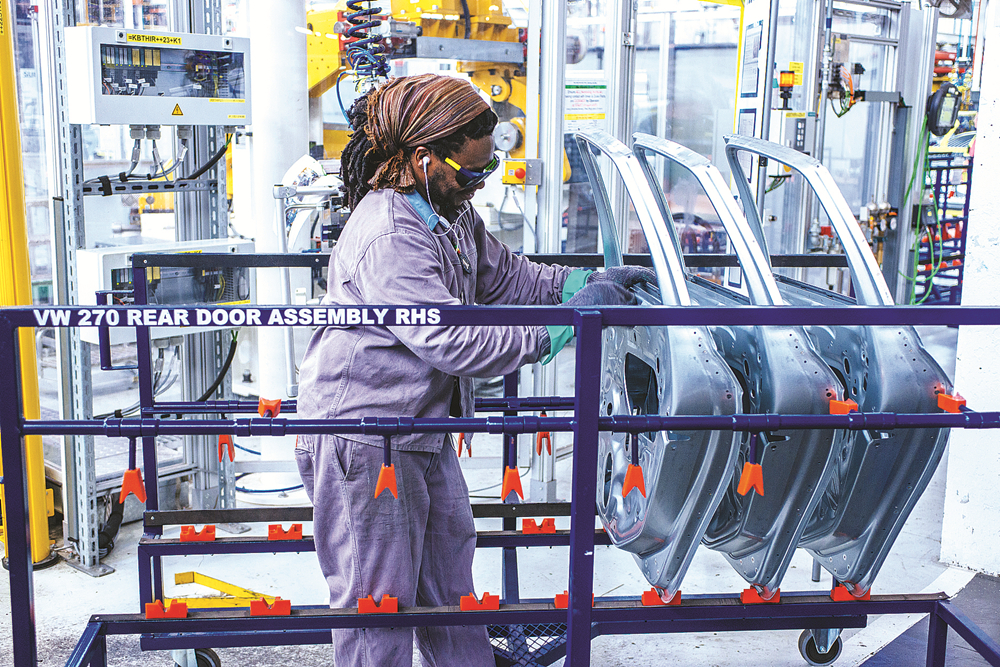 To capture positions outsourced from China, continent must re-examine its capacity-building sector, experts say
A leading Kenyan politician recently visited a Chinese company to call for it to expand its operations locally and regionally.
Adan Mohamed, the cabinet secretary of industrialization, trade and cooperatives, told China Wu Yi (Kenya) Precast Co Ltd — an enterprise worth $100 million that the move would not only increase the supply of affordable construction products, but would also generate job opportunities for young Kenyans.
The Kenyan government has pledged to create 1.3 million jobs each year, with the manufacturing sector being key to these plans. The country has the highest unemployment rate in the region at 39.1 percent, according to a recent report by the United Nations' Human Development Index.
The challenge is not confined to Kenya. A recent report by the International Labor Office, titled World Employment and Social Outlook: Trends 2018, says unemployment for the entire continent stands at 7.9 percent. The figure is expected to increase this year, driven by a growing labor force in a climate of limited improvement in the labor market, the report says.
This is unlike the situation in other regions, where a downward trend is predicted. For example, the North American unemployment rate is expected to decline from 4.7 percent to 4.5 percent this year, while Asia-Pacific levels are expected to remain low at around 4.2 percent, the International Labor Office report says.
A number of factors are blamed for the rising levels of unemployment in sub-Saharan Africa.
"Chief among them are political and social instability, closed borders limiting the movement of people and capital, an unfavorable business environment, difficulties in accessing credit by small and medium-sized businesses, disruptive technologies, harsh weather and lack of infrastructure," says Robert Kagiri, a lecturer at the Institute of Diplomacy and International Studies at the University of Nairobi in Kenya.
But above all, several employers have cited a skills deficit as the reason behind joblessness in Africa. A study commissioned by the British Council, the Universities, Employability and Inclusive Development Project (2013-16), says that around 49 percent of new graduates are not adequately prepared for the labor market.
Moreover, the World Economic Forum's Human Capital Index report, The Future of Jobs and Skills in Africa, Preparing the Region for the Fourth Industrial Revolution, which was released last year, says sub-Saharan Africa currently uses 55 percent of its human capital potential, compared with a global average of 65 percent.
It says employers across the region identify inadequately skilled workforces as a major constraint on their businesses, including 41 percent of all companies in Tanzania, 30 percent in Kenya, 9 percent in South Africa and 6 percent in Nigeria.
"This pattern may get worse in the future. In South Africa alone, 39 percent of core skills required across occupations will be wholly different by 2020," the report says.
"Capacity continues to be the missing link for the continent to successfully drive its industrialization ambitions," says Kagiri. "This means that African governments need to focus on performance of the economy as well as capacity-building. It goes hand-in-hand."
At the Africa 2017 International Forum in Egypt, Carlos Lopes, the former executive secretary of the United Nations Economic Commission for Africa, warned that Africa is running out of time for capturing jobs outsourced from China. He said manufacturers are increasingly turning to advanced technology such as robots for cheap and efficient labor.
"The window of opportunity is fast closing for Africa to benefit fully from China's industrial delocalization process," Lopes says. "Contrary to widely held expectations, the continent might miss out on the millions of jobs up for grabs."
The World Bank estimates that rising wages in China, as well as Beijing's commitment to upgrade its manufacturing industries, will see the country shed around 83 million to 85 million jobs, providing unprecedented industrialization opportunities for Africa and other low-income countries.
"We have to face the fact that some low-end value production can be replaced by robots. Africa therefore has to realize that these opportunities are becoming elusive and the window is fast closing. Reforms have to be implemented urgently," says Lopes, who is now a professor at the Graduate School of Development Policy and Practice at the University of Cape Town, based in Guinea-Bissau.
Financing is not a big challenge, since China is backing Africa's industrialization, experts say.
At the 2015 Forum on China-Africa Cooperation Summit in Johannesburg, President Xi Jinping pledged to set up a China-Africa production capacity cooperation fund with initial capital of $10 billion.
The China-Africa Industrial Cooperation Fund, set up in 2016, has already approved 10 projects worth a total of $1.7 billion, including funding a $40 million aluminum manufacturing project in Angola by CITIC Construction, research shows.
In spite of access to cheap credit, Chinese companies are not moving to Africa quickly enough. A recent report by global management consulting company McKinsey says that at least 10,000 Chinese-owned companies are on the continent today.
Lopes says: "Chinese brands are growing in global visibility and, despite the desire to settle in Africa to take advantage of low labor costs, their skill-capacity demands are high. Countries that would successfully capture these investments are those that start investing in building a talent pool around these market-oriented needs."
Samuel Nyademo, a lecturer at the School of Economics at the University of Nairobi, agrees, saying governments have paid little attention to upgrading technical training institutions. "Most of our graduates are unprepared for the labor market. There are weak linkages between the industries and technical colleges to develop market-driven programs," he says.
Nyademo acknowledges that new Chinese companies setting up in the East African country are empowering graduates with advanced training. China Road and Bridge Corp, the company behind the construction and management of a $3.7 billion railway in the country, linked with the Railway Technical Institute of Kenya to train students who were later employed by the company. Aviation Industry Corp of China hosts a regional competition in partnership with technical colleges to upgrade students' technical skills.
These skills-upgrading programs can only be accessed by students who are still in college. Those who have already entered the job market, Nyademo says, should be retrained with short professional courses funded by the government.
"These programs should be tailored to specific industries," he says, but adds that many African countries, in particular Kenya, lack a road map needed to drive the process.
However, Herman Manyora, a language and communication lecturer at the University of Nairobi, says Kenya and other African countries, such as South Africa, Egypt, Zimbabwe and Malawi, have the talent pools needed by light industries. But they are rarely tapped, since the job market has placed a premium on university graduates instead of artisans from technical institutions who have the relevant skills, he says.
"This has consequently led to a skewed system that churns out more university graduates than artisans," says Manyora. "And this has upset innovation and human resources in the manufacturing sector."
Manyora calls for a re-evaluation of the system. He also wants governments to support the informal sector of technicians graduating from technical colleges. He says most new jobs are generated by this sector.
"By supporting this sector with cheap credit, market access for their products and encouraging innovation, it will create avenues for partnerships that Chinese enterprises are looking for," he says. "Supporting a culture of pursuing further education would also boost their competitiveness."
Manyora disputes the view that African jobs are likely to be taken over by robots, saying the need for skilled and semi-skilled cheap labor will continue for a while.
But to increase the competitiveness of Africa, technology and innovation must be encouraged in the education system, he says, and this is where strong support by the private sector is needed, especially in launching incubation centers.
Erik Hersmans, an entrepreneur and technologist based in Nairobi, says: "We need more practical, hands-on training in academia for the IT sector, the software developers, and electrical and mechanical engineers, among others.
"The universities need to access more grants for applied research to support growth of the sector. Real research and development isn't happening in most academic institutions in Africa, which means we're not coming up with as many of the new innovative technologies from those locations, where you find most of that work being done in other parts of the world."
Africa should also establish policies to keep professionals in the country, according to the Africa Capacity Building Foundation, a skills development agency. It says a brain drain is depleting the continent of talent. Open borders to allow movement of people, capital and programs, in order to encourage the diaspora to return home, would shore up the skills capacity, too, the foundation says in a study released last year.