Cainiao launches global air freight service
By He Wei in Shanghai | China Daily | Updated: 2018-03-31 09:11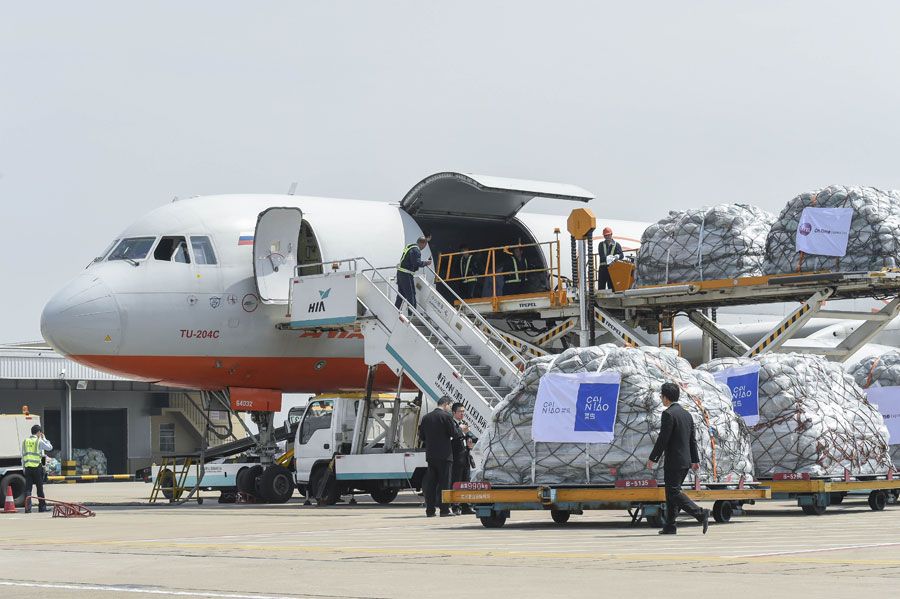 Courier aggregator Cainiao Network Technology Co Ltd has launched its first international air freight service, a solid step toward the goal of serving 2 billion customers within two decades set by its parent company Alibaba Group Holding Ltd.
The maiden flight, which took off on Thursday linking Hangzhou and Moscow, will effectively shorten transportation time from China to Europe to five days.
Russian carrier Aviastar-TU is operating the service for Cainiao. The cargo plane stops in Novosibirsk, Russia and the Latvian capital Riga en route between the two cities.
The aircraft currently makes one to three round-trip flights per week, which is expected to increase to five to seven round trips in the future, the company said.
"The regular cargo flight can help small businesses better engage in international trade," said Cainiao President Wan Lin, adding the company will roll out more such services in the future.
Europe is a critical destination for China's e-commerce exports, with 1,000 metric tons of cargo being shipped from China to Russia every month on Cainiao's platforms, according to company figures.
AliExpress, Alibaba's business-to-customer site selling to foreign users, has been the biggest online shopping avenue in Russia since 2014, according to research firm TNS.
Cainiao is helping to reshape the logistics landscape in Russia, where online shoppers used to wait for weeks and sometimes up to two months to get their parcels, said Shen Difan, general manager of AliExpress.
"With expanded routes and real-time analysis based on algorithms, Cainiao is on course to help reduce delivery time worldwide to 72 hours within the next five years," Shen said.
To beef up such capabilities, the company has pledged to invest 100 billion yuan ($15.96 billion) in data technology research and development over the next five years to promote the development of smart warehouses, intelligent distribution and global super logistics hubs.
Xu Yong, principal analyst with think tank China Express and Logistics Consulting, said regular routes can make intercontinental deliveries more punctual and stable, but warned that the company should be aware of Russia's vast geographical span, which might incur high transportation costs.
"As global players vie for a growing slice of the online-shopping pie in Eastern Europe, it is imperative that Cainiao reduces freight costs to keep its sister e-commerce service competitive," Xu said.
Alibaba announced plans last week to establish six global purchase centers worldwide, including one in Europe.