Volkswagen presents its latest range of SUVs in Beijing
By Hao Yan | China Daily | Updated: 2018-04-02 13:18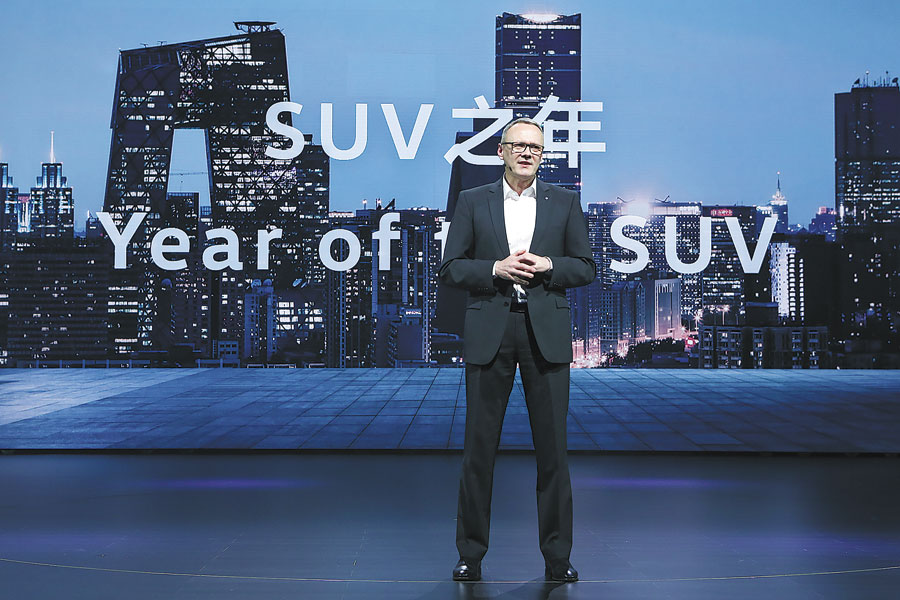 Volkswagen revealed its latest line-up of sport utility vehicles in Beijing recently, at a spectacular event featuring dynamic audio and visual displays.
The German carmaker revealed four new SUVs that have been tailor made for the Chinese market, including the flagship All New Touareg which made its global debut at the event held on March 23.
As a first step in the brand's major China initiative, Volkswagen Move Forward, the All New Touareg SUV will be imported into the world's largest car market. Together with FAW-Volkswagen's new T-Roc and Advanced Mid-size SUV, plus SAIC Volkswagen's Powerful Family SUV, these models constitute a progressive product offensive, according to the company.
"Today marks the start of Volkswagen Move Forward, around its first initiative: SUVs," said Stephan Woellenstein, CEO of Volkswagen Brand China. "We named 2018 as our year of the SUV, and right here, right now, we are going to start delivering on this.
"To satisfy all the different customer needs, we will bring a full portfolio of SUVs to China. From small to large, from sporty to functional, from dynamic to expressive, we are ready to fulfill whatever our Chinese customer's desire," he added.
To meet the wide-ranging needs of Chinese consumers, the brand is focusing on four pillars - new models and body styles, new design, new energy and new technology, according to the company. Volkswagen will have more choice available in the Chinese market this year, with its new generation SUVs forming an entire SUV line-up of seven models. The company's full line up of SUVs will also consist of existing popular models, such as the imported Tiguan, plus the SAIC Volkswagen Tiguan L and Teramont. "Today, we show how our Chinese SUV portfolio will basically double within this year. In China, our current portfolio of four SUVs will grow to at least 12 by 2020, with even more exciting new models to come after that," Woellenstein told the audience at the launch event.
Volkswagen has been the leading brand for Chinese car buyers for some 30 years, and is on the way to delivering the two millionth SUV carrying the Volkswagen marque in China in April this year, after delivering more than 400,000 SUVs to Chinese customers last year alone.
SUV sales jumped by 13.3 percent year-on-year to 10.25 million units in 2017, and contributed 35.5 percent to the total of 28.88 million new car sales in China last year.
As China develops, Volkswagen must be relentless in its pursuit of transformation and renewal, and the brand is going to carry on doing just this in the next three years, according to Woellenstein.
Volkswagen's all-electric I.D. Crozz concept and upcoming Tiguan L plug-in hybrid electric vehicle were also showcased at the event. The brand's first electrified SUV to be locally built, the Tiguan L PHEV will hit the market this year, and the I.D. Crozz will be offered as part of the I.D. Family, coming to China from 2020.
Touareg leads the way
Volkswagen's new flagship SUV will arrive in Chinese dealerships during the fourth quarter of 2018, offering effortless performance and the latest technologies, according to the company. Air suspension and 4-wheel steering provide unprecedented levels of driving comfort to suit the interior design which has a lounge-like feel and is made with quality materials and craftsmanship.
The Touareg features Volkswagen's Innovision Cockpit, a fully digital, integrated instrument panel that includes the instrument cluster and infotainment screens. The company says the new model is leading the way with high-tech features including Night-Vision, head-up display, a high-end Dynaudio sound system and Matrix LED headlights.
"It combines state-of-the-art technology with superior craftsmanship - and the comfort of a luxury saloon with the skills of a true off-roader," said Herbert Diess, chairman of the board of management Volkswagen brand, at the car's world premiere.
"We have made this car for a generation of ambitious and performing people. People who strive for the best and not only expect innovation, but also want to drive it forward by themselves," he added.