Fleet-footed Isner grabs biggest win of his career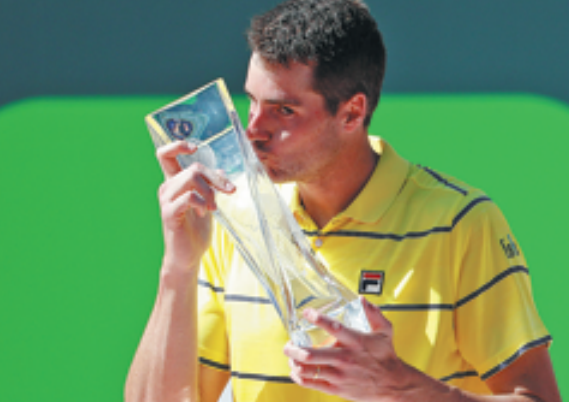 KEY BISCAYNE, Florida - John Isner punctuated his unexpected run to the Miami Open title with a surprising display of agility, dancing across the court while basking in a breakthrough.
The 6-foot-10 Isner looked twice as tall in winning the biggest title of his 14-year career, holding every service game and rallying past Alexander Zverev 6-7 (4), 6-4, 6-4 on Sunday.
Isner, who turns 33 this month, was 0-3 in his previous ATP Masters 1000 finals.
"You can't replicate moments like this," Isner said during the trophy ceremony. "I'm toward the latter part of my career; this is my best moment so far."
Isner's win came in the last singles match on Key Biscayne before the Miami Open moves next year to the NFL Dolphins' stadium.
Seeded 14th, Isner became the first American man to win the tournament since Andy Roddick in 2010.
Isner joined Sloane Stephens, who won the women's title on Saturday, for the first US sweep in the event since 2004, when the champions were Roddick and Serena Williams.
The start of the last game was delayed by the crowd's chants of "U-S-A!". Isner then held at love, and on the final three points he smacked aces, giving him 18 for the match and 79 for the tournament.
"I was just ready for this moment," he said.
"I've been here three other times, and I've lost three times on this stage. I was just ready for it."
Isner is best known as tennis' marathon man thanks to his 70-68 fifth-set victory over Nicolas Mahut at Wimbledon in 2010. He possesses perhaps the game's biggest serve, but has never reached a Grand Slam semifinal, largely because a lack of mobility makes it difficult for him to stay in rallies.
The string of victories at Key Biscayne surprised even him because he arrived with a record of 1-6 this year, including losses to players with rankings of 60, 62, 78 and 91.
"I couldn't have scripted this," Isner said. "I was playing very poorly...but that's the way tennis goes. You gain a little confidence, and things start to roll your way."
He played an almost flawless semifinal to beat Juan Martin del Potro, and was just good enough against the fourth-seeded Zverev, a precocious 20-year-old German who was bidding for his third Masters 1000 title in the past 12 months.
The Key Biscayne finale drew a near-capacity crowd, and the atmosphere was electrifying at times.
When Isner hit a forehand winner during a tense final game of the second set, he whirled his index finger as he looked around at the roaring crowd, coaxing the decibel level still higher.
Two points later, when Zverev won a wild exchange with both players at the net, he waved both arms toward the stands, inspiring another crescendo from the fans.
Isner's serve allowed him to overcome inconsistent returning, a succession of botched volleys and shaky play at crunch time. He converted only two of 12 break-point chances and lost his final three service points in the tiebreaker.
Associated Press