Rare show
By Wang Kaihao | China Daily | Updated: 2018-04-10 08:12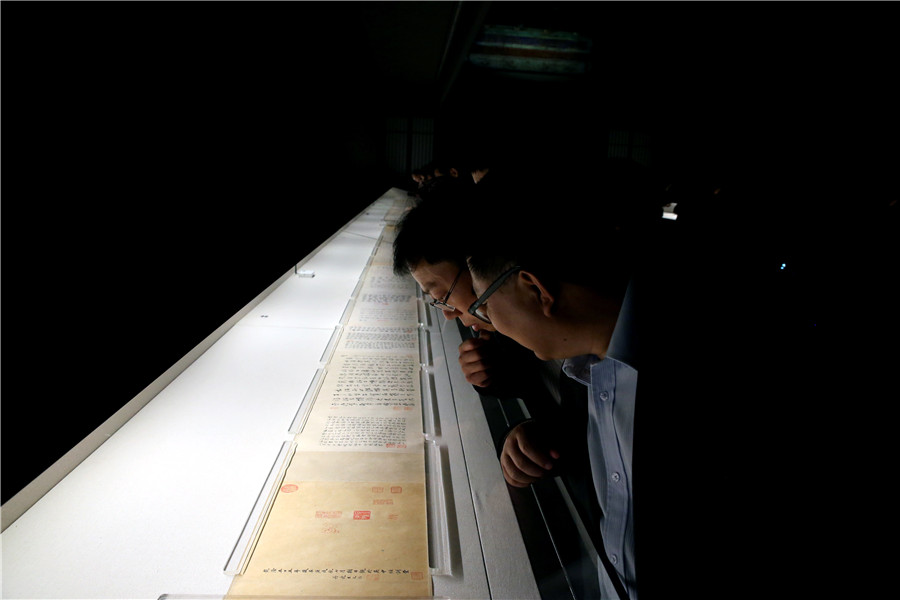 The Palace Museum celebrates the late collector Zhang Boju's passion for ancient masterpieces.

In 744 AD, Li Bai, a poet of the Tang Dynasty (618-907), climbed the Wangwu Mountain in today's Henan province. He wanted to meet one of his old friends, who lived in Yangtai Palace, a Taoist temple on that mountain. Unfortunately, when he arrived, Li found out that his friend had died. The poet then wrote the 25-character calligraphy piece-Ascending Mount Yangtai (Shang Yangtai Tie)-to convey his feelings for the departed.
Li, considered one of the best ancient Chinese poets, may have left numerous masterpieces behind, but this is the only known surviving calligraphy work inked by him.
Now, thanks to a donation by Zhang Boju (1898-1982), an antique collector, the work is being displayed in public. Ascending Mount Yangtai and 30 other pieces, highlighting ancient Chinese painting and calligraphy, which were collected by Zhang, are on show at the ongoing exhibition commemorating the 120th anniversary of his birth at the Palace Museum in Beijing, China's former imperial palace that is also known as the Forbidden City.
Born in a rich family, Zhang once served in an army for warlords, but later became a banker. Other than being an antique collector, he was also known as a Peking Opera artist.
More displayed works at the exhibition are from collections of the Palace Museum, the National Museum of China and the Jilin Provincial Museum, where Zhang worked in the 1960s.
"Zhang's devotion to the country was unwavering," Shan Jixiang, director of the Palace Museum, says. "In the years of social upheaval, he even sold his personal property to keep our national treasures at home."
Related Stories