Zimbabwe embraces ample cooperation opportunities following Mnangagwa's trip to China
Xinhua | Updated: 2018-04-10 13:47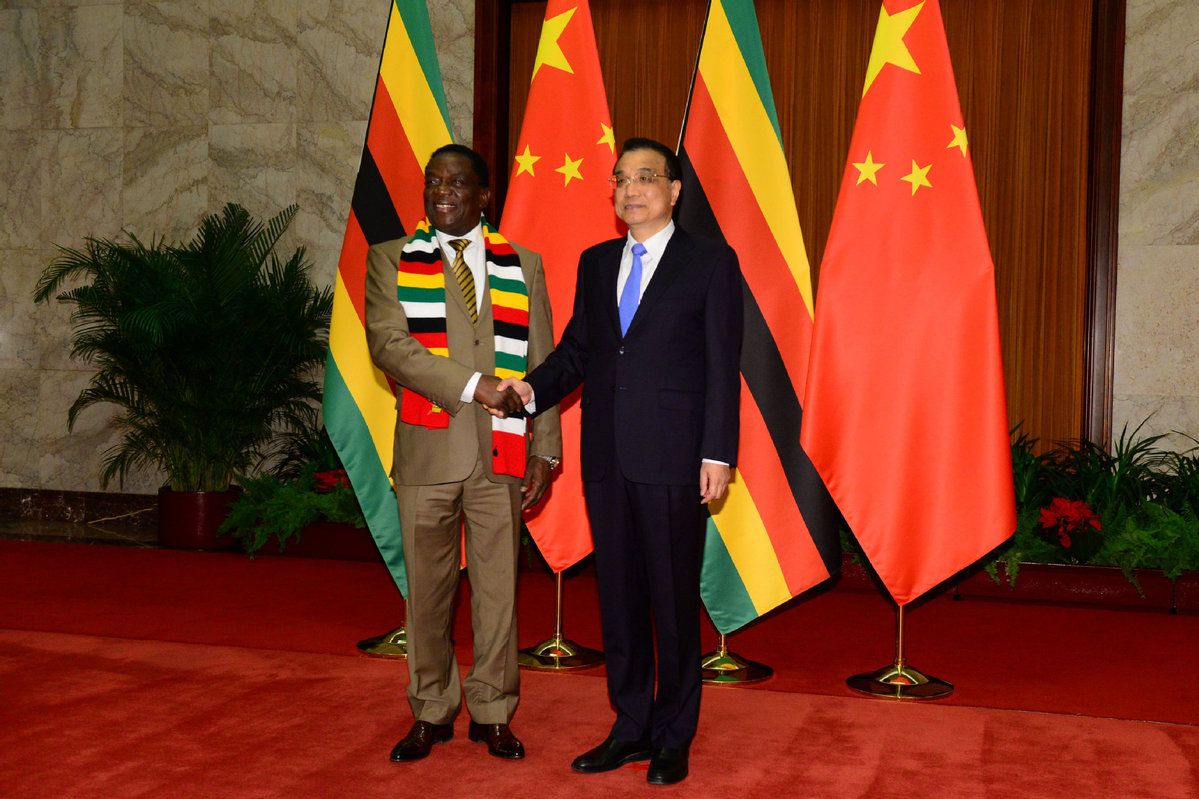 HARARE -- Zimbabwean President Emmerson Mnangagwa concluded his five-day state visit to China last Friday, giving substantial impetus to future cooperation between the two nations.
The trip was Mnangagwa's first outside Africa since taking over from former leader Robert Mugabe last November, and resulted in the two countries deepening political and economic ties.
During the visit, Chinese President Xi Jinping and and his counterpart Mnangagwa agreed to establish comprehensive strategic partnership of cooperation between the two countries.
Xi said the Zimbabwean people have started a new journey in building their country since Mnangagwa took office last November.
"As a good friend, partner and brother of Zimbabwe, we are glad to see that," Xi told Mnangagwa.
When meeting with Mnangagwa, Chinese Premier Li Keqiang said Zimbabwe is an important partner of China in Africa and China will continue to uphold the principles of sincerity, friendship and equality, and bring new vitality to the traditional friendship between China and Zimbabwe.
China is ready to work with Zimbabwe to give full play to the complementary advantages of both economies, innovate cooperation methods and deepen cooperation in infrastructure construction, agriculture, production capacity and human resources, said Premier Li.
On the economic front, China and Zimbabwe managed to strike deals worth billions of US dollars for implementation of various infrastructure development projects in energy, water, transport, tourism and telecommunications, among other sectors, Chinese economic and commercial counsellor to Zimbabwe Li Yaohui told Xinhua.
The two countries also signed numerous agreements to advance economic cooperation, skills development, education and other facets of the economy, the counsellor said.
Among major deals Zimbabwe finalized with China is the expansion of Hwange Thermal Power Station by 600 megawatts by China's Sinohydro.
Funds for the $1 billion project, which has been in pipeline for some years now, are expected to be released immediately, the counsellor said.
With this latest deal, China is emerging as the top investor in Zimbabwe's energy sector after the government, two weeks ago, commissioned another Chinese-built-and-funded power expansion project at Kariba South Hydro Power Station.
The expansion project, which added two 150-megawatt units to the power plant, was also done by Sinohydro at a cost of $533 million.
The expansion lifted Kariba's installed capacity from 750 MW to 1,050 MW, making it currently the country's biggest power plant.
The completion of Kariba expansion and implementation of the vast Hwange Thermal Power project will greatly boost Zimbabwe's power supplies and help the country, which faces perennial power shortages, be energy self-sufficient.
Li Yaohui said that other mega projects sealed by Mnangagwa in China are for the expansion of Harare Robert Mugabe International Airport, construction of a new parliament building, network expansion for Zimbabwe state-owned mobile firm NetOne, refurbishment of Harare's water treatment plant and construction of a pharmaceutical warehouse, among others.