Infant saved with latest liver surgery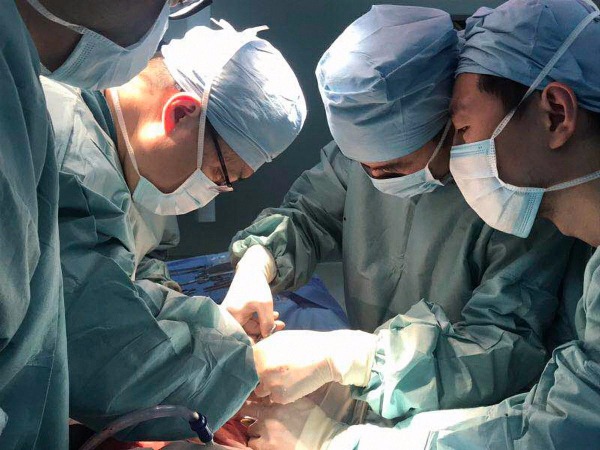 A 9-month-old boy in Harbin, Heilongjiang province, has become the youngest person in the world to undergo an innovative new surgery for liver tumors.
Known by the acronym ALPPS, the technique involves the removal of a significant part of the organ.
The child, nicknamed Linlin, had two operations to remove a tumor from his liver at First Affiliated University of Harbin Medical University.
Linlin's parents took him to the hospital in early March when they noticed that he was vomiting frequently after eating, had a fever and was sleeping poorly.
A physical examination revealed that most of the child's liver had been corroded by a tumor and less than 23 percent of the normal liver tissue remained. Removal of the damaged tissue was required.
"That is one of the most effective treatments for liver tumors," said Xu Zhilin, director of the pediatric surgery department at the hospital, adding that the amount removed is "limited by the minimum volume of the future liver remnant, which is required to provide sufficient postoperative liver function".
"It means that the baby can't survive if less than 30 percent of his liver is left after surgery," Xu said. "But we didn't want to give up on him - a little life with no chance to enjoy the wonderful world."
After further research and discussions with the department's deputy director, Wang Long, as well as with some other medical workers, Xu chose ALPPS, a new surgical strategy that unfolds in two stages.
In late March, Xu and Wang performed the first-stage surgery on Linlin with the help of a 10-member medical team.
In the first stage, Xu said, tying off a key vein "could cause most of the blood to transfer to the normal liver tissue, which could help it grow rapidly in a short time".
"About a week later, his normal liver tissue had increased to 40 percent, meeting the necessary requirement for the second-stage of treatment," Xu said.
In April, after a four-hour surgery, the parents of Linlin were told that the tumor had been removed successfully and the baby had received a new life.
"We have overcome extreme difficulties to treat such a little baby whose disease is really complex," Xu said. "He is lucky to become the beneficiary of the advanced technique.
"It is also meaningful for us to set a precedent in applying the technique to an infant and to get valuable practical experience," he added.
Xu said Linlin's vital signs were stable, and the child was expected to leave the hospital in about a week.