A new era of all together, nobody first
By Laurence Brahm | China Daily | Updated: 2018-04-13 06:54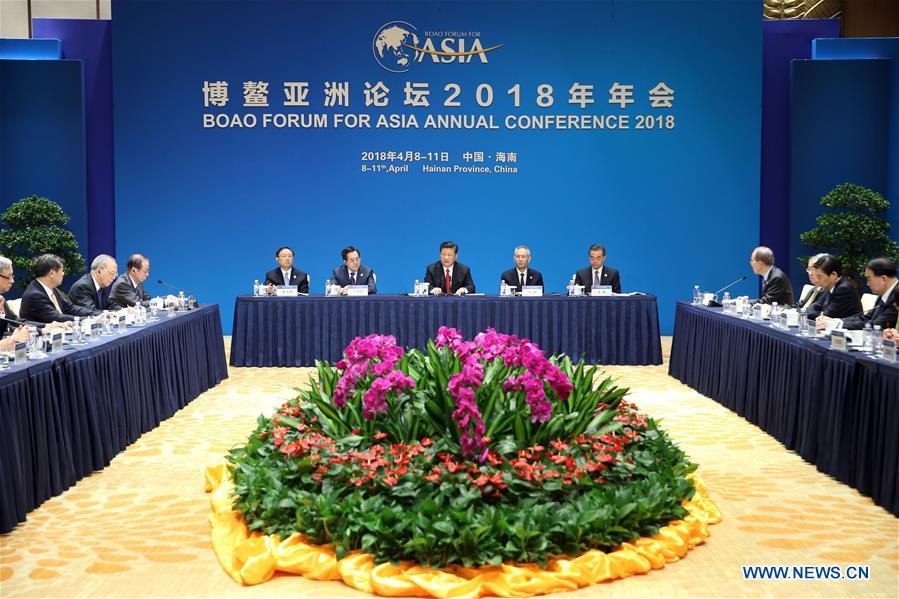 The Boao Forum for Asia, held every spring in South China's Hainan province, has become known to many as "the Davos of the East". However, as an annual economic conclave, the Boao Forum represents a set of ideas very different from those economic forums where Western business and political interests dominate and set the rules for globalization that is synonymous with Americanization, or promote a set of ideas associated with the "Washington Consensus", which Europe has felt obliged to buy into as a matter of long-held North Atlantic interests.
Established as a multilateral convening of business interests focused on the Asian community, the Boao Forum for Asia has been opening its doors to participants who have business or trade interests with Asia.
When President Xi Jinping addressed the 2018 Boao Forum for Asia on Tuesday, he presented a fresh image of China in the new era. "In this complex and changing world, where are we headed and where is the future of Asia?" he asked.
Responding to the question himself, Xi offered a clear path forward. "In a world aspiring for peace and development, the Cold War-and zero-sum mentality looks even more out of place. Putting oneself on a pedestal or trying to immune oneself from adverse developments will get nowhere."
Without economic development, peace and prosperity cannot be assured. Sanctions, tariffs and trade wars have, as proven over the decades, achieved absolutely nothing in terms of assuring any kind of stability or security for anyone. However, lifting people out of poverty through economic growth and the assurance of identity through economic empowerment do create lasting and sustainable security. Continued economic integration through transport and communications is key.
China has its own history of alleviating poverty and forging its own approach to sustainable growth and development, and it can share this experience at forums such as the Boao. However, the "Chinese solution" is not a cookie-cutter approach to be adopted by other countries. Each country and region has its own solution that must be built on the culture, geography and conditions of the people and the place. This approach of sharing and not imposing was very much emphasized in Xi's address on Tuesday.
In many ways China is stepping into a role of global leadership through action rather than words. Unlike some Western powers that espouse values that they cannot themselves live up to, China is acting rather than saying. The Belt and Road Initiative is about economic integration through networks of both transport and communications.
China's policy on ecological civilization establishes a framework for achieving low-carbon development through enhancement of green energy; it is an assurance of environmental protection as well-as not only a priority for the government but also as a mega trend for innovative technologies and finance. These are among the solutions that Xi offered to the international community at the Boao Forum for Asia.
Xi's emphasis on global integration, increased trade and commitments to open markets and financial integration stand in stark contrast to the Twitter outbursts of US President Donald Trump. In the shadow of a unilateral trade war that Trump threatens to launch, China stands as a beacon promoting multilateral trade, transport and communication integration, technology advancement and environmental protection. At a time when Trump emphasizes only "America first", Xi has repeatedly expressed his vision of a community of shared future for humankind.
At such a time of global uncertainty and volatility, business and finance leaders worldwide are looking for signals of stability. Reactionary Twitter outbursts ridden with anger do not offer either stability or a sense of sustainability for global investors and business leaders. A well thought through vision, backed with clear and pragmatic plans for assuring environmentally sustainable growth together with continued global economic integration does.
The author is the founding director of Himalayan Consensus and International Research Fellow at the Center for China and Globalization.