Japan has much to gain by improving ties with China
By Zhou Yongsheng | chinadaily.com.cn | Updated: 2018-04-14 08:42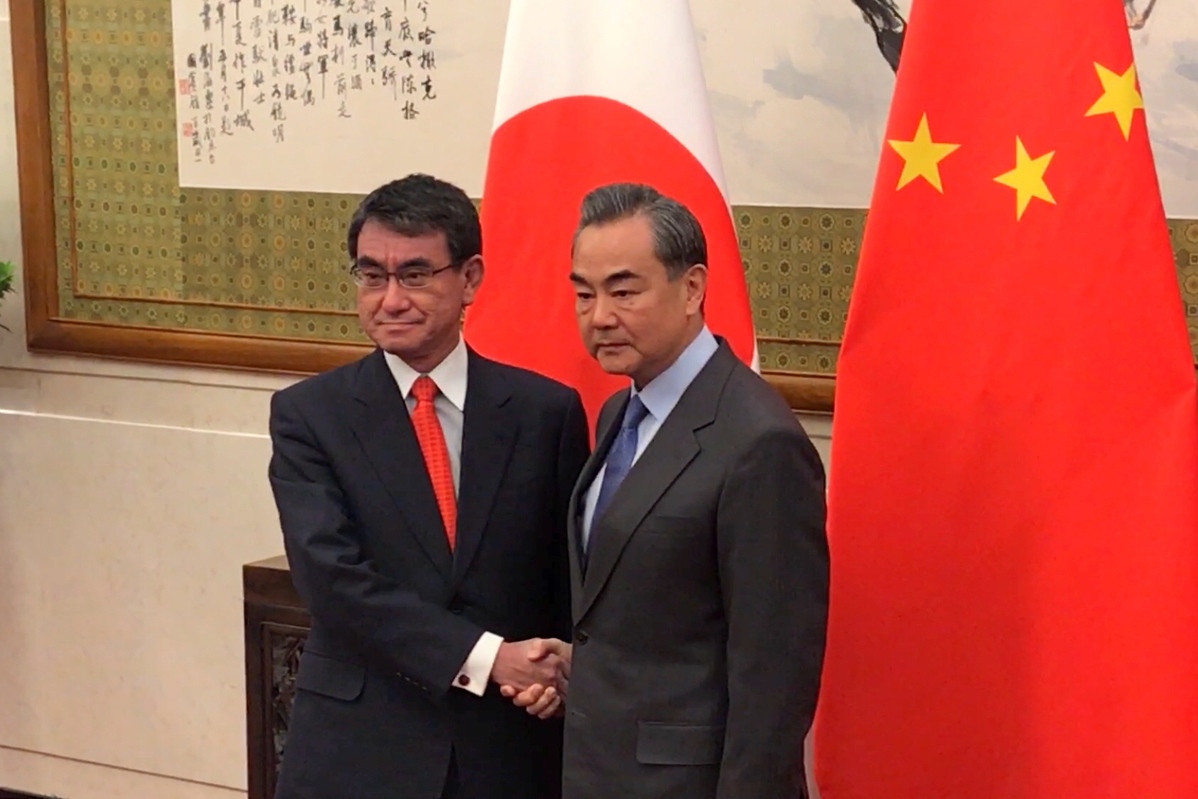 During his first visit to Japan as State councilor and foreign minister from Sunday to Tuesday, Wang Yi will co-chair the fourth China-Japan High-Level Economic Dialogue with Japanese Foreign Minister Taro Kono in Tokyo, which is welcome news for both countries.
Since September 2012, when the Japanese government decided to "nationalize" China's Diaoyu Islands, bilateral relations have suffered one blow after another. Even though President Xi Jinping and Japanese Prime Minister Shinzo Abe met at the Asia-Pacific Economic Cooperation meeting in Beijing in November 2014, bilateral ties remained cold.
The deep structural problems between the two countries are yet to be solved. For China, Japan's illegal "nationalization" of the Diaoyu Islands and its leaders' distortion of the country's history during World War II are unacceptable.
Besides, Japan's attempts to amend its pacifist Constitution to build a regular military, and its moves to break the regional balance pose a threat to China's national security. And that Japanese leaders wrongly assume China is a threat to their country further complicates the situation.
Another factor that plays a vital role in Japan's attitude toward China is the United States' Asia-Pacific policy, especially its China policy. Japan has been following the US in diplomacy since the end of World War II. But with the seemingly maturing Sino-US relationship — thanks to Xi's visit to the US and US President Donald Trump's visit to China last year — suffering setbacks over the past few months, Japanese politicians are uncertain about future Sino-US ties.
Hopefully, some economic data for 2017 will make Abe realize he should no longer hesitate to improve ties with China. China contributed more than 30 percent to world economic growth; Sino-Japanese trade increased by over 10 percent to reach $300 billion again last year; Japanese enterprises invested about $3.2 billion in China, 5.3 percent more than in 2016; and over 7 million Chinese tourists visited Japan and spent about $14 billion there. Only one conclusion can be drawn from the data — that Japan has no option but to improve its relations with China. Of course, China will also be able to accelerate the upgrading of its industries if bilateral ties improve.
History shows bilateral cooperation produces win-win result for any two countries and antagonism hurts both. As some differences between China and Japan, such as historical issues and territorial disputes, cannot be resolved overnight, the two sides should try to narrow down their differences and reach agreements on other issues, so as to deepen cooperation.
China's Belt and Road Initiative is a good framework for the two sides to restart their cooperation. Chinese enterprises are good at making plans but not so good at evaluating risks and analyzing details, while Japanese companies are good at maximizing the use of every penny but not so good at strategic planning. If the two countries' enterprises work together under the framework of Belt and Road Initiative, they could produce high-quality and long-term win-win results.
The China-Japan High-level Economic Dialogue, resuming after eight years, is expected to cover three topics: Japanese enterprises' investment in China, further opening-up of Japan's market to Chinese enterprises, and their detailed cooperation programs under the Belt and Road Initiative. The topics gain added importance in the light of Xi's keynote address at the Boao Forum for Asia on Tuesday, where he said China will further open up its market to the outside world. It offers Japan an opportunity as well as a challenge: If Japan deepens cooperation, it will prosper together with China, but if it fails to capitalize to do so, it could be marginalized.
Therefore, Wang's visit not only offers Japan a golden opportunity to improve bilateral ties, but also a chance to deepen its domestic reform to achieve faster economic growth. And let us not forget that improved China-Japan relations will be a boon to East Asia and the Asia-Pacific region as a whole.
The author is a professor of Japanese studies at China Foreign Affairs University.