Chinese and Scottish art festivals jointly commission new Yang Liping production
By ZHANG KUN in Shanghai | Updated: 2018-04-16 15:56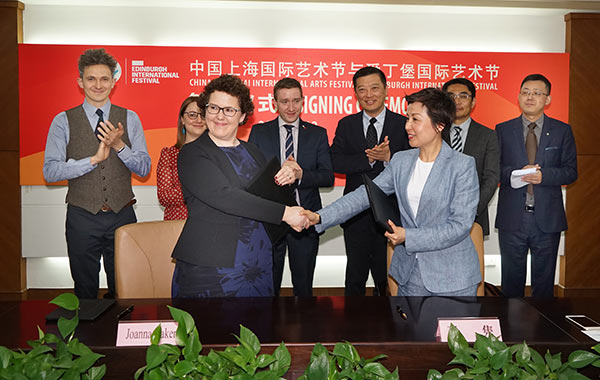 The China Shanghai International Arts Festival (CSIAF) and the Edinburgh International Festival (EIF) on April 12 agreed to co-commission a new dance production by Yang Liping.
Yang's new production Rite of Spring will premiere at the 20th CSIAF in October. It will also be showcased at the EIF in August 2019.
Joanna Baker, managing director of EIF, said that the signing of the memorandum of understanding in Shanghai marked a new partnership between the two festivals. She added that this collaboration on a new version of the Rite of Spring marks EIF's commitment to showcase contemporary Chinese work to a global audience.
"The two festivals share the same belief in the value of cultural collaborations. We hope this is just the beginning of a long and fruitful partnership," she said.

The EIF celebrated its 70th anniversary in 2017. One of the most important art celebrations in the world, the festival features performers from more than 30 countries every year. Chinese musicians such as pianists Lang Lang and Yuja Wang as well as singer Shen Yang have participated in the EIF before.
CSIAF has been commissioning new productions from emerging artists for years, and aside from Yang's Rite of Spring, a number of other productions have achieved success on the global level, said Wang Jun, president of the center for CSIAF.
"The 2018 Edinburgh International Festival program will continue to support international partnerships, maintaining Scotland's reputation as the world-leading festivals capital," said Mark Boyce, head of international affairs of the Scottish Government.