Bowing to the urban demand for quality
By Mu Guangzong | China Daily | Updated: 2018-04-23 08:01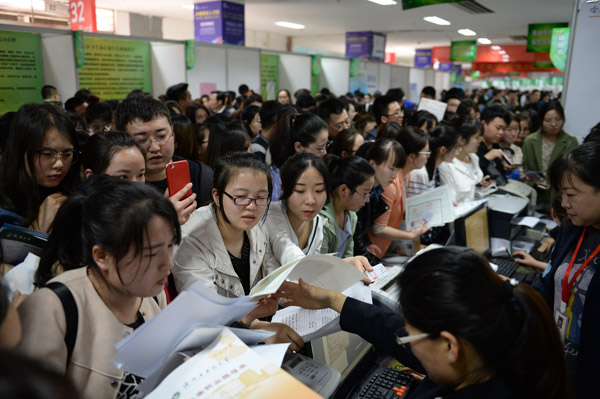 Four decades of reform and opening-up, and the resultant rapid economic development have given rise to a fierce competition for talents in China. Although China remains the world's biggest talent exporting country, it is now seeing talented Chinese individuals returning home.
At the beginning of the 21st century, only 17 of the 100 students studying abroad returned to China after completing their education. By the end of 2017, the figure had risen to 79 out of 100. This trend indicates China has become a great power, where talents have become more and more important to the domestic human resources market.
Talent has become the most crucial but scarce factor for a city's high-quality development. The competition for talents in many cities has much to do with the central government's policy to attract talents. It is also closely related to the ever-increasing economic and innovative competition among cities because of high-tech development and upgrading of the economic structure.
The competition for talents among second-tier cities, including Wuhan, Xi'an and Chengdu, has become increasingly fierce. According to Xi'an's latest talent introduction policy, all college students can apply online for household registration (hukou) in Xi'an using their national ID card and student ID card. As a result, 15,552 people applied for the Xi'an hukou within three days.
Even first-tier cities such as Beijing and Shanghai, which have taken strict measures in recent years to control their population, have recently joined the competition for talents. Beijing attracts talents because it is the political and cultural capital of China, and a global communication and technological innovation center. On March 21, Beijing introduced a pilot program to attract talents. Shanghai, too, has announced a series of plans to attract high-end talents, including scientists, entrepreneurs, and renowned artists.
The intention of the competitors is to seize the key factor of urban development, regional rejuvenation and China's rise: talent. Chinese cities no longer want to attract ordinary workers for manual labor; they want high-end talents with innovation capacity and competitiveness that determine a city's future. As such, talent refers to people with higher education and/or professional skills.
The future trend is to cultivate more potential talents, as reflected in the Programme of Action adopted at the International Conference on Population and Development in Cairo, Egypt, in 1994.
From the perspective of ecological balance of population, high-end workers, or talents, and the mid-to low-end workforce both are crucial for urban development, because a city is an organic ecological system that requires various kinds of people that trust and support each other.
Although the competition for talents among the different cities are not mainly to solve the aging problem in urban areas, a majority of talents introduced to cities are young and middle-aged people with strong creative potential, and high productivity and consumption potential.
The talent introduction campaign may therefore ease the pressure of aging population to some extent, and make up for some of the population loss in urban areas. It will not only improve a city's competitiveness, but also contribute to its balanced population.

The author is a professor at the Institute of Population Research, Peking University.