FAW charges startup Byton's new energy drive with strategic partnership
By Hao Yan | China Daily | Updated: 2018-04-23 10:05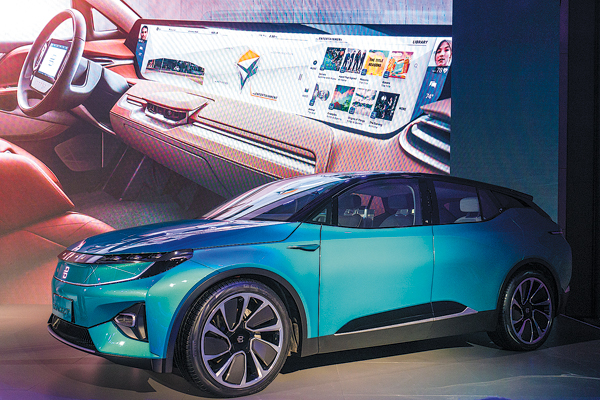 Next generation automobile startup Byton and Stateowned car manufacturer FAW Group entered into a partnership on Friday in Beijing, to cooperate in the development of new energy vehicles.
FAW is a strategic investor in Byton, and the two sides have possibilities to work together in research and development, manufacturing and services.
Carsten Breitfeld, CEO and co-founder of the startup, said in a group interview that the latest agreement represents a great boon for the company.
"We are honored to enter partnership with FAW," Breitfeld said. "It has great significance for Byton for volume and bringing down costs while ensuring high quality."
Byton president and cofounder Daniel Kirchert said the Chinese startup's overall B-round funding is expected to attract $400 to $500 million and will finalize in the coming weeks. Although the details of the partnership have not been fully fleshed out yet, many plans are in negotiation and many possibilities are under consideration, Kirchert said.
Both companies will consider cooperating in many areas, such as working together on joint procurement for stronger bargaining power and lower costs, according to Breitfeld.
"FAW might share its strong access to the supplier chain and political support," he added.
Byton was to apply for a production license from the Chinese government in the second half of this year or early next, however FAW already has this license, which means production on the startup's models can be rolled out sooner.
"The partnership needs to be formed on a long-term perspective, and to balance both parties as they both need to be benefited," Breitfeld said.
"Byton has a premium technology team, which in turn will benefit FAW when it facing technological challenges."
Byton also announced it has signed up with several local partners, including retailer Suning for its online mall and shared mobility services, CATL to supply lithium batteries, Star Charge and TGood for charging facilities and pile sharing, and Baidu for voice and image recognition.
The startup, also known as Future Mobility Corporation, is also in talks with internet technology company Tencent to integrate its social media platform WeChat into the vehicle's communication platform.
Emerging automobile startups are racing to become the China's first electric carmaker to compete with Tesla from the United States to attract the most resources among rivals, according to a senior analyst at a national securities firm, who requested to remain anonymous.
Byton debuted its first concept car at the Las Vegas International Auto Show, earlier this year.
The model features facialrecognition technology and smart internet connectivity.
The first industrial prototype is in the process of assembly in Byton's Nanjing manufacturing base.
Its second concept car, a sedan, will makes its global debut at the Consumer Electronics Show Asia in Shanghai in June.
Byton's first product, a sport utility vehicle, will feature level-3 automated driving-an advanced driver assist system for use mainly in highway driving. It will late be upgraded to level-4, according to the startup.
Preorders for the SUV will be taken in the second half of 2018, with Byton's first brick and mortar experience center in Shanghai to be put into operation in the fourth quarter of this year, the company said.