London's Parliament Square finally gets first ever statue of woman
Xinhua | Updated: 2018-04-24 23:39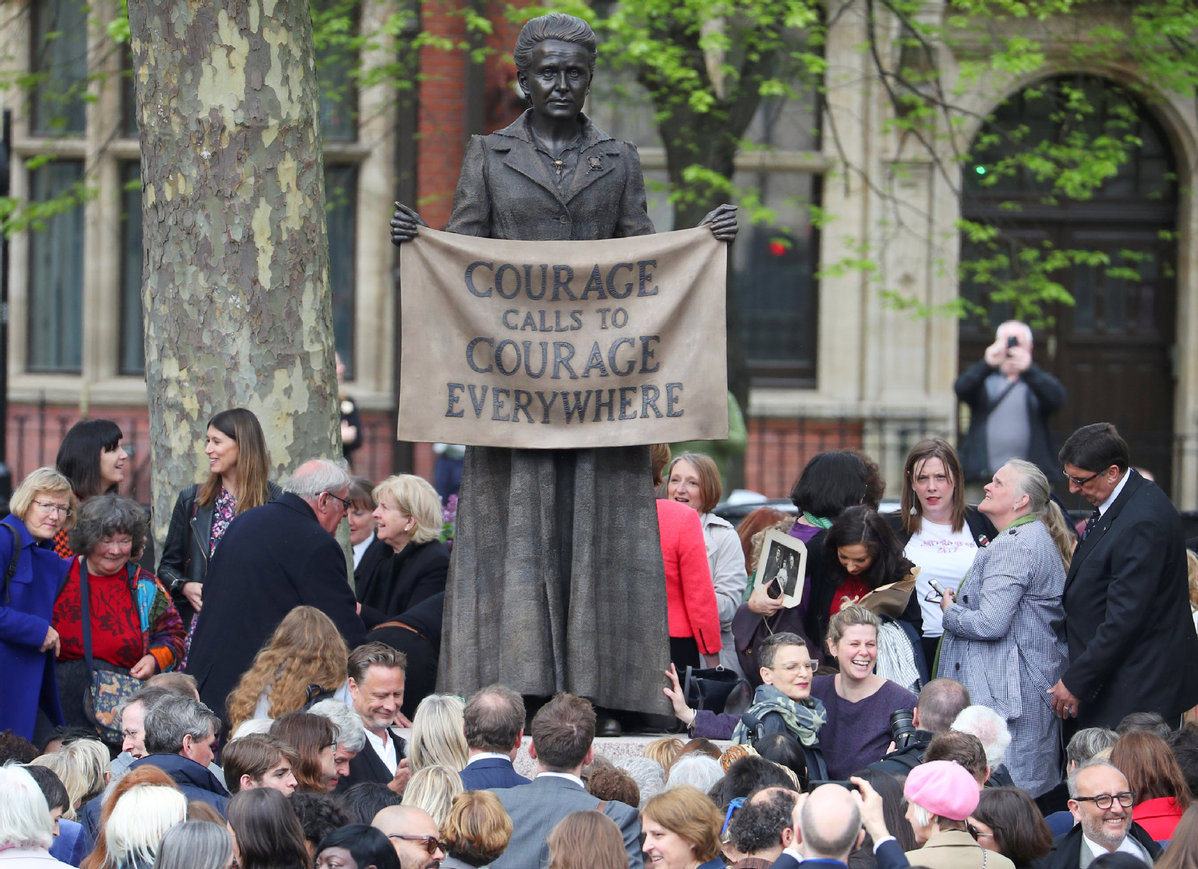 LONDON - A statue was unveiled in front of Britain's Houses of Parliament on Tuesday of one of the leading "votes for women" campaigners.
The new bronze statue of the suffragette Millicent Fawcett is the first in Parliament Square to commemorate a woman. The other 11 in the square are all of men, including Nelson Mandela, Abraham Lincoln and World War II prime minister Sir Winston Churchill.
Fawcett campaigned over a century ago for women to have the right to vote, leading to a parliamentary bill in 1918 that gave the vote to women over the age of 30. It would be another 10 years before that right was granted to all women.
The statue, made by Turner prize-winning artist Gillian Wearing, shows Fawcett holding a banner with the words "courage calls to courage everywhere".
Fawcett used the phrase in a speech in 1913 shortly after campaigner Emily Davison died after throwing herself under King George V's horse at Epsom races in a bid to draw attention to the plight of women in Britain.
The statue was commissioned as part of the centenary this year of the 1918 Representation of the People Act.
British Prime Minister Theresa May, who was at the unveiling ceremony, paid tribute to Fawcett's campaigning.
"History has many authors and in our own small way we each help to shape the world in which we live, but few of us could claim to have made an impact as significant and long-lasting as Dame Millicent," May said.
"I would not be standing here today as prime minister, no female Members of Parliament (MPs) would have taken their seats in parliament, none of us would have the rights and protections we now enjoy if it were not for one truly great woman."
London Mayor Sadiq Khan said the whole process for the statue, from petition to project, was made up of solely women.
He said of the statue: "Londoners are going to love it. They will be blown away."
The statue started with a campaign by feminist activist Caroline Criado Perez after a run around London two years ago with her dog. She said she was frustrated at seeing 11 statues of men in Parliament Square, and decided it was time that a woman was placed in the heart of Britain's democracy.