Riding tall in the saddle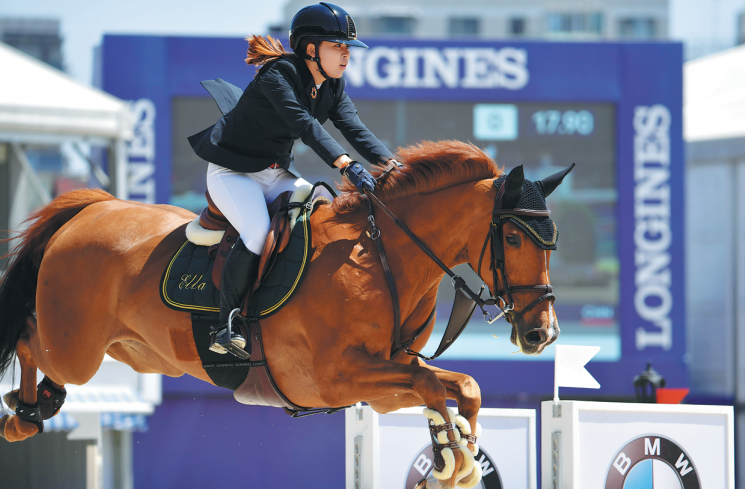 New wave of Chinese talent competes against the world's best at Shanghai showcase
The Longines Global Champions Tour rode into Shanghai last weekend, with Chinese riders relishing the rare chance to test themselves on home soil against the world's best.
As a CSI level-5 show jumping event sanctioned by global governing body the FEI, the competition attracted top stars like Belgium's Gregory Wathelet, who won the weekend's main title (1.60 meters), Dutch world No 2 Harrie Smolders and Britain's Olympic gold medalist Scott Brash.
Reaching the podium against such exalted company proved a step too far for the Chinese contingent, but they still seized the opportunity with both hands.
"Competing in high-level competition means getting out of your comfort zone," said Hong Kong's Raena Leung, who has ridden on the European circuit since 2011.
"Riders might know all of their competitors in domestic events. When we get out of here, there's a whole different world.
"That also means handling more pressure. Riders have to expose themselves to more high-level competitions, so we know what to do when the real challenges come."
Teenager Ella Wang, who is already a national champion, was one of the youngest Chinese riders to compete in Shanghai.
The 19-year-old, who has been training in Germany since 2016, said Europe has much more to offer her than the equestrian scene here, which remains in its infancy.
"There are all levels of equestrian events every week in Europe, and sometimes there are two or three competitions over a weekend," said Wang.
"I can manage to participate in several different competitions, depending on the condition of my horses. Because there are different levels, I can ride up to six horses to compete for several rounds at a time. In China, I only need to take one or two horses with me.
"There's a gap between Chinese and European equestrianism. Children in Europe can get a quality equestrian education from the very beginning. It's good to see that there are more and more high-level events in China, and I hope more Chinese riders will compete in them."
Wang's case is common, with the majority of China's established riders training in Europe and sometimes living there permanently, such as Alex Hua Tian, who placed eighth in eventing at the 2016 Rio Olympics.
He began equestrian training in the UK at the age of 11, attending the prestigious Chafyn Grove School in Salisbury and later the nearby famous Eton College.