Creative cocktail duo mix up a storm to swill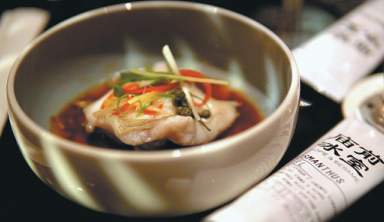 Steamed mandarin fish with soy sprouts and soy sauce paired with osmanthus gel in a collapsible tube-it's a fresh combination that arouses a taste of harmony.
The duo behind Guangzhou's Hope & Sesame bar, Bastien Ciocca and Andrew Ho, are creating a seven-course cocktail dinner for Beijing social lounge Equis, in conjunction with its head chef, Paolo Belloni.
The pair started their bar in February 2016, and have continued to update their creative cocktail menus. They are bringing two of their signature cocktails to Beijing, together with four new mixes designed especially for this dinner.
One of their signature cocktails is the Angostura, in which Ciocca uses a five-year-old Flor de Cana rum, angostura bitters, a balsamic-vinegar reduction and lime. The vinegar is made very thick like a syrup to produce strong and sour flavor.
"Our guests may not like it the first time they try it, but it makes them want to try it one more time, and then somehow, another time after that. And that's when they really start to like it," Ciocca says.
"It's like Sichuan pepper for me," says Ciocca, an Italian-French mixologist born in Switzerland.
Chef Belloni has paired his 24-hour slow-cooked beef short ribs with the Angostura, since both the cocktail and the dish take a long time to make.