Travel agency in Hunan pulls discriminatory advertisement
By Wang Keju | China Daily | Updated: 2018-04-27 09:22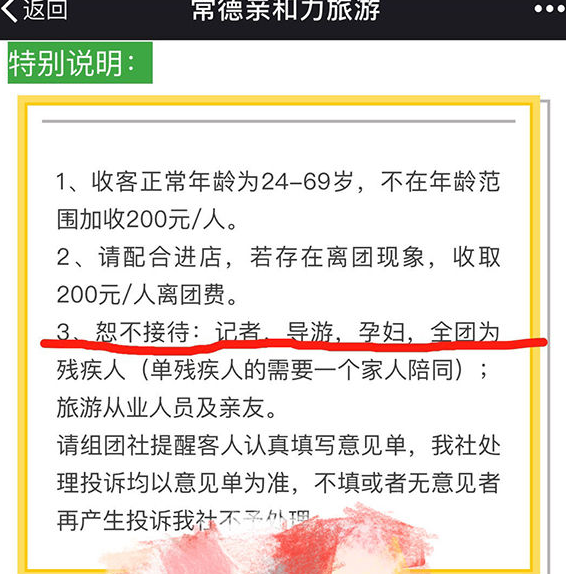 A travel agency in Changde, Hunan province, was punished on Wednesday for a tourism product that discriminates against pregnant women, journalists, tour guides and people with disabilities, local authorities said.
Enjoying Going International Travel Agency in Changde posted information about an upcoming three-day tour to Guilin in the Guangxi autonomous region via WeChat on Wednesday, saying that people in those categories would not be accepted.
Also, an extra 200 yuan ($32) would be charged for people whose ages were not between 24 to 69 or those who refused to enter the store the agency recommended.
The tour was priced at 299 yuan per person, including transportation, accommodations and meals.
The agency deleted the offer later that day and posted an open letter of apology explaining the advertisement as a clerical error by some staff and from inadequate supervision from leaders.
The Changde bureau of tourism, foreign and overseas Chinese affairs investigated after receiving complaints about the advertisement on Sina Weibo. It subsequently ordered the agency to remove the ad.
The bureau said it will also transfer information about other illegal travel-related behavior by travel agencies to the local tourism administrative department, and conduct a special inspection campaign of all the city's travel agencies and crack down on illegal advertising.
Although pregnant women, senior citizens, children and people with disabilities do cost more during travel, it's illegal to put them on a blacklist, said He Mang, assistant dean of the School of Tourism Management in Sun Yat-sen University.
The travel agency only focused on profit but neglected its social responsibility, he added, which is not unique in the tourism industry.
Rules that damage tourists' interests should be eliminated, he said.