Neighbors move toward 'Asian Century'
By Mukul Sanwal | China Daily | Updated: 2018-04-28 07:07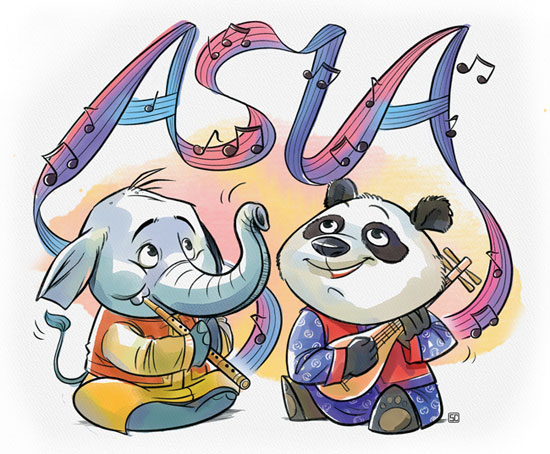 Indian Prime Minister Narendra Modi responded somewhat positively to President Xi Jinping's vision of the world-infrastructure being its most visible symbol-on Friday, the first day of their two-day "informal" summit in Wuhan, Hubei province.
The aim of the Beijing-proposed Belt and Road Initiative is to improve infrastructure connectivity along the two land and sea routes of the ancient Silk Road, champion integration as China climbs up the global value chain and makes efforts to balance its interests with those of other economies.
In contrast, the United States has been rejecting global rules and multilateralism, and has questioned the merits of globalization because of its inability to continue using legal frameworks to get disproportionate benefits, and sought India's support in the "Indo-Pacific" strategy to contain China.
Supplementing these views of rules and trade routes, India's foreign policy appropriately responds to the global trends, Asian aspirations and neighborhood goals, as they cannot be considered in isolation.
First, India has the potential to become the world's third-largest economy by 2030, and its exceptionalism is based on a civilizational world view of sharing prosperity and working with others to set joint goals.
Second, in a world of expanding middle class, equity and the environment are more powerful integrating factors than political ideologies. Making equity mainstream, rather than a topic of meaningless discussion on the sidelines of regional and international meetings, along with sustainable resource use, is important in the 21st century.
Third, India is not looking at Asia, which soon may account for two-thirds of global wealth, in terms of the outdated concept of "balance of power" but as the largest common market. Asia is reverting to its historical equilibrium of an integrated continent and does not want to choose between India and China. Instead, it supports a resetting of their relations to shape the goals of the "Asian Century", which include the Belt and Road Initiative and security-related differences.
Fourth, in a digital world, India has a comparative advantage and the potential to be an engine of global growth, just like China, for the coming decades.
And fifth, in a multipolar world, leaders' visions are the biggest game-changers and India's priority is settling the boundary issues with its neighbors, enhancing diplomatic leverage and building a $10 trillion economy.
With global wealth and power shifting back to Asia, India, like China, cannot be a "status-quo" power. Since no US administration has connected human rights to global equity and social and economic justice, India needs to be clear which rule-based order it wants to support as it pushes a new agenda of fairness.
Previously global rules suited a unipolar, yet interconnected, world, as they required a hegemonic power to set the agenda. But given the divergent interests of the emerging market economies and developing countries-compared with the developed world-today's interdependent world can only thrive under a multipolar order while moving ahead on agreed global goals. In fact, agreed goals were at the heart of former US president Barack Obama's bilateral deal with China when the two countries worked together to reach the 2015 Paris climate agreement.
Already the main trading partner of Asian countries, China is now pushing to improve international norms, technical standards and institutions through the Belt and Road Initiative, which covers more than 900 projects, including 76 ports and terminals in 34 countries and special arbitration courts, about 80 percent of which are contracted to Chinese companies. China is still working on its conceptual framework.
Reframing the global climate concern in terms of "climate justice", Modi, on his part, is trying to change the Western conceptual framework for emission reduction to focus on human well-being within ecological limits. New ideas are also needed on the lines of the International Solar Alliance for reframing global trade, in order to share prosperity and supplement the United Nations agenda with the missing global goals.
And as the rivalry between the US, and Russia and China intensifies, India can play a stabilizing role on agreed goals within the framework of a multi-stakeholder in the "Asian Century".
The author is a former UN diplomat and a visiting professor at Tsinghua University, Beijing.