Edgar Snow's 'Red Star' shines on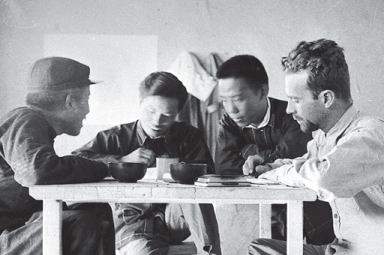 In 1936, a 31-year-old American writer ventured into a "no-go" zone in a remote part of Northwest China's Loess Plateau with many questions in his mind.
Who were the Chinese Communists? How did "the Reds" dress, eat, play, love and work? What were the chances of the Red Army winning at all? What was their leader Mao Zedong like?
Edgar Snow entered, stayed and re-emerged with little doubt that the almost-isolated fighting force led by the Communist Party of China would ultimately succeed.
He penned the book Red Star over China, giving a rare, detailed and at times brilliant account of the revolutionary movement the world knew so little about.
In 1938, the Chinese version hit the market.
Eighty years later, the book is once again being widely read as people seek to understand the CPC.
The political party Snow introduced to the world is now behind the wheels of the world's second-largest economy as it drives ever closer to the global center stage.
"The book's charm is its true account of reality," said Cao Wenxuan, a Peking University professor, at a symposium last week to mark 80 years of the book's Chinese edition.
Until the book's publication, Mao and his comrades had usually been portrayed in the West as "Red bandits" fighting a losing guerrilla war. Reports about them often relied on hearsay or were pure fabrication since the "Red zone" was blockaded.
But Snow was undeterred. His trip to Bao'an, the makeshift CPC headquarters near the present-day city of Yan'an, opened his eyes. He was one of the first outsiders to gain an inside look at the Chinese Communists. Snow wrote about Mao, Zhou Enlai and other revolutionary leaders he spent four months living with in the hillside caves there.
"I remember a chapter in which Mao talked about his childhood," says Men Liangjie, a journalism graduate student at Tsinghua University. "I felt like I was also sitting in that cave with Snow, listening to Mao."
Gordon H. Chang, a professor of history at Stanford University, says he had an "electrifying" reading experience with the book.
"No other Westerner had presented such insight into Chinese communism before," Chang says. "Edgar Snow was a singular individual who came along at the right moment. He was an excellent writer and a keen observer of history."
He adds: "It was not just sympathetic but appeared to be grounded in real sources and observations. It felt truthful and I think many others who read it, even today, feel similarly."