Coach Marbury has a vision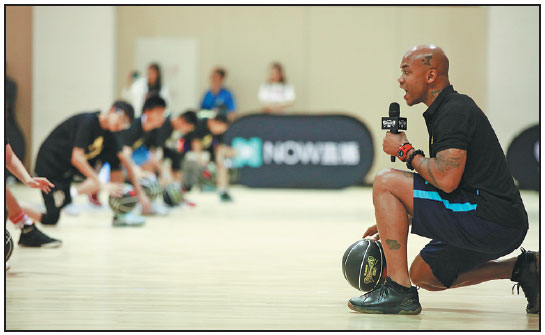 "It's just a start for what is expected to be a longer partnership with Marbury to expand his influence and leverage our resources to build a new system for basketball talent development and related businesses," said Wang Yuanhao, chairman of Guotai Sports.
Since arriving in China in 2010 with the Shanxi Brave Dragons, Marbury has become a megastar here, with his efforts to fit into Chinese culture and everyday life in Beijing helping him transcend his sport.
The 41-year-old New York native has a statue erected in his honor outside the Ducks' Wukesong Arena home, a personal museum called "Marbury House" near Tian'anmen Square and a permanent residence permit that allows him to enter the country without a visa.
Not surprisingly, the Marbury brand has flourished, with his Starbury sports gear, numerous endorsement deals and even a biopic starring the man himself, which was released last August, raking in the cash.
In April, Sun Seven Stars Investment Group, founded by Chinese media tycoon Bruno Wu and his TV host wife Yang Lan announced plans to develop a sports-entertainment business, with Marbury chairing the group's sports division.
Meanwhile, Sun Guohua, chairman of the Beijing Basketball Association, revealed that more partnerships with Marbury and Guotai Sports regarding the city's elite youth development program will be launched in the near future.
However, with so many irons in the fire, Marbury insists his focus remains on the court.
"Basketball is what brought me here and changed my life forever," he said. "It's important for me to continue to create a foundation that the younger generation will be able to build on.
"I will be here in the summer to make sure we not only start out right but continue to allow people to see what it is that we are doing with this youth program.
"If you have some other guys playing in the NBA who have camps here, they are not really here that much.
"Our situation is completely different in that we are not only hands-on, we are right here."
sunxiaochen@chinadaily.com.cn