Taming the problem of strays
By Liu Yinglun | China Daily | Updated: 2018-05-16 08:13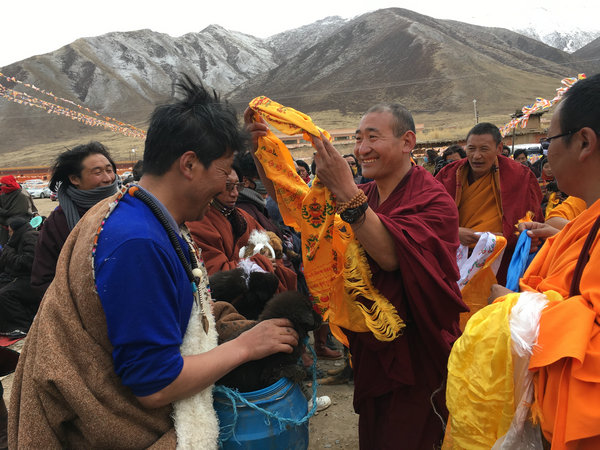 Six dogs chased the Himalayan blue sheep up a rocky mountainside. The herbivore dashed until it saw the precipice's edge. It tried to stop from plunging over the cliff-too late.
The canines, which were larger than the sheep, hovered atop the cliff for a moment, seeming to study their motionless prey. Then, they scurried down the slope to feast.
Yin Hang has frequently witnessed stray dogs in Qinghai province hunt wild animals since 2009.
Residents say the dogs also attack them.
The canines also host tapeworms that cause life-threatening echinococcosis.
The National Health Commission reports the disease had reached epidemic levels in 39 of Qinghai province's 43 counties as of 2012.
In 2014, Yin founded a nonprofit environmental group based in the provincial capital, Xining, that claims to be the only organization dealing with the province's stray-dog problem.
"The problems will persist if we don't take action," she says.
"I want to be a trailblazer."
The 34-year-old first came to the area to protect the endangered snow leopard in 2009.
Yin recalls falling in love with animals when she watched a documentary about pandas when she was about 7.
"The second I saw a researcher emerge from a cave with a baby panda in her arms, I knew (working with animals) is what I was going to do," she says.
So, she left the metropolitan capital of Beijing for pastoral Qinghai.
Her mission was to develop models enabling herders and snow leopards to coexist. She often had to live in the wilderness for two straight months without contact with the outside world.
"I just really like animals," Yin says.
The Beijing-based Ginkgo Foundation named her as a partner last year for her work with the dogs. The organization supports young social entrepreneurs.
"Yin's effort to encourage stray dogs' adoption and sterilization is a tenable approach," the Ginkgo Foundation's secretary-general Lin Hong says.
Lin visited Qinghai to assess Yin's work.
"It balances animal welfare, environmental protection, and the local communities' social, economic and cultural conditions."