Taming the problem of strays
By Liu Yinglun | China Daily | Updated: 2018-05-16 08:13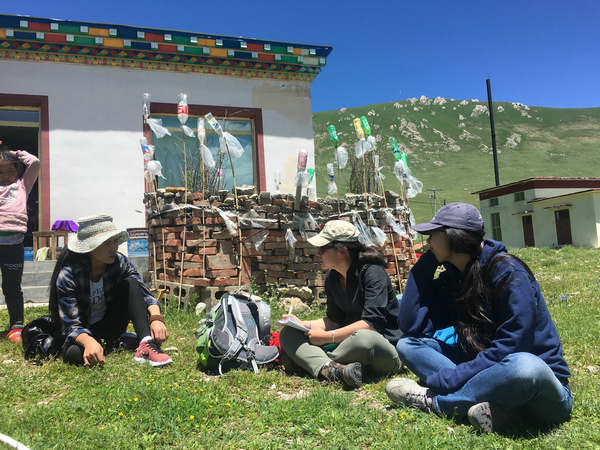 Finding solutions
Yin started with a yearlong field study to determine why Qinghai has so many strays.
Her organization focuses on the area around Sanjiangyuan, the source of China's three main rivers. It's China's largest nature reserve, accounting for about half the massive province and four of Qinghai's five Tibetan autonomous prefectures.
The Tibetan group's name, Gangri Neichoghas, translates as Snow Place. "Snow" refers to snow-clad peaks of the Qinghai-Tibet Plateau, and "place" describes how locals view the area's nature.
"Their long-standing way of maintaining a harmonious relationship with nature has been changing over the years. Why? I want to delve deeply into that question," she explains.
She believes the stray-dog issue offers answers.
Yin and her organization conducted surveys and interviews in the Yushu Tibetan autonomous prefecture's Yushu city and Nangqian county.
They found herders had previously kept dogs to guard their herds. Selling or abandoning the canines was frowned upon, Yin says.
But locals started breeding the endemic Tibetan mastiffs for profit when speculative investments pushed prices for the breed sky high in the early 2000s.
Demand for mastiffs fell sharply in the following decade. The surplus then became strays.
And people have been leaving their dogs behind when they leave the grasslands. About 55,000 people have moved from the prairies to urban areas since the government initiated a project to preserve grasslands in 2005, and former herders enjoy access to public services in towns and cities.
This means nobody is controlling the dogs' mating.
Yin estimates there will be nearly 20 times as many strays in Qinghai in three years.
That's why her group advocates sterilization.
Mass sterilizations have proved successful in India and Bhutan.
Bhutan's nationwide Catch-Neuter-Vaccinate-Release campaign has spayed or neutered and given rabies vaccine to 71,000 dogs over the past seven years.
Last December, Singapore also announced a five-year effort to sterilize about 7,000 street dogs from the second half of 2018.
Yin and her team added adoption to their approach.
"Having a home can help the dogs recover from the surgery," she says.
Once adopted, the dogs will be included into the government's monthly deworming program to prevent echinococcosis, she adds.