Tourists seek out smaller countries
By Zhou Wenting in Shanghai | China Daily | Updated: 2018-05-17 09:20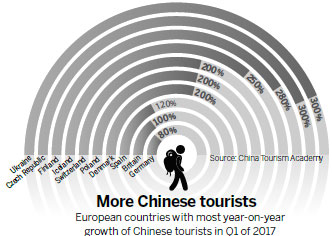 Niche tourist destinations in Europe are gaining popularity among Chinese visitors, as some turn from glancing over scenic spots to exploring places that are less known, a senior official at the European Travel Commission said.
Burgeoning destinations such as Ukraine and the Czech Republic are rising because of their easy visa policies, Eduardo Santander, executive director of the European Travel Commission, said during an interview in Shanghai on Wednesday.
"It is the EU-China Tourism Year this year, and we are delighted to see the growth of such new destinations among Chinese visitors," Santander said.
"Instead of long lines at favored scenic spots in Rome and Paris, we want to invite Chinese tourists to enjoy another kind of Europe with a more personalized experience."
China is the world's largest source of outbound tourists, according to World Bank.
Jiang Yiyi, director of the Institute of International Tourism Development under the China Tourism Academy, said the country's Belt and Road Initiative contributes to the increasing attractiveness of Central and Eastern Europe for Chinese tourists.
Xiao Yi, CEO of Qyer, a Chinese travel information website, said the relaxation of visa policies also contributes to the growth.
"Serbia started a visa-free policy for Chinese tourists last year. Bosnia and Herzegovina will begin a visa-free policy for Chinese later this month. We expected significant growth in the number of Chinese tourists there," Xiao said.
The promotion of less-known destinations will be key to the EU-China Tourism Year, Santander said. The European Travel Commission encouraged airports, hotels and restaurants in less-known destinations to endorse the Welcome Chinese hospitality standard as the official certified service standard for Chinese tourists.
Welcome Chinese is a hospitality standard, brand and company founded in 2013.
"To meet the certification criteria, public venues must provide Chinese-friendly services, including signs in Mandarin and staff members fluent in Chinese; accept China UnionPay cards; and have hot water available to cater to Chinese stomachs," said Jacopo Sertoli, Welcome Chinese CEO.
The European Travel Commission's cooperation with online Chinese travel agencies and travel information websites is another approach.
"A flagship platform for Europe will go online in about a month. Users searching for information about any European destination will be directed to the platform, which will offer introductions from the destination's tourism department and relevant product options," said Qiu Weijun, a manager at online travel service Ctrip.