Rudd suggests to focus on 'economic commonality'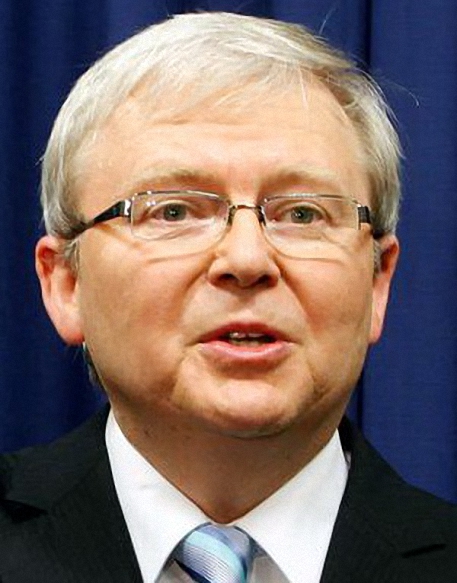 China and the United States should look at new ways of revitalizing their relationship with emphasis on areas of economic commonality, said former Australian prime minister Kevin Rudd.
Rudd's comments came as there have been positive developments between the two nations, including Vice-Premier Liu He's visit to the US for economic and trade consultations, and easing the US stance on its sanctions on Chinese telecom-equipment giant ZTE.
"I see a good first step toward some forms of a deal. I hope this can lead to a more stable relationship predicated on economic commonality and mutual understanding," Rudd said in a written interview with China Daily.
The former Australian prime minister, a China expert who is fluent in Mandarin, said that China and the US can cooperate in a number of areas of economic commonality such as tourism, infrastructure and medical care, as well as new fields such as digital commerce, digital finance and new technologies.
China's Belt and Road Initiative can contribute to "the huge infrastructure deficits" in the US and the two countries can also cooperate on development projects across the developing world, Rudd said.
Rudd suggested that China and the US, as the world's two largest economies, should use the dispute resolution mechanisms established by the WTO to decide the claims based on fact and merit and the two economies should stand to win - both economically and politically - by working together.
Rudd is among some 400 current and former government officials, as well as leading global CEOs, who will attend the New Economy Forum held by Bloomberg and the China Center for International Economic Exchanges in Beijing this November.
The forum is expected to serve as a communication platform and stimulate dialogue among global business and political leaders, who will likely touch upon issues ranging from trade and investment to the shape of a new global order led by emerging economies such as China and India, and global challenges such as climate change and inequality.
Henry Paulson, former US treasury secretary, who will also attend the forum in Beijing, said that dialogue is needed to foster cooperation and for government and business leaders to address global challenges.
"Even when the tariff impasse is behind us, economic relations between the United States and China will continue to be fraught. It's all the more reason why we need dialogues like the New Economy Forum to foster collaboration and results," Paulson said.