Europe seeks deeper agricultural ties
By Liu Jia in Brussels | China Daily | Updated: 2018-05-18 11:15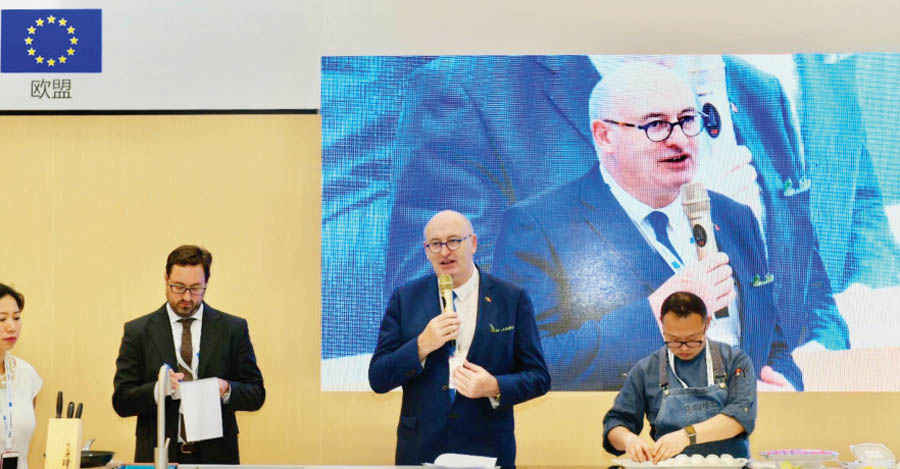 EU commissioner leads delegation to China to promote the trading bloc's farm products
The European Union sees the bloc's relationship with China as precious, healthy and full of potential, according to Phil Hogan, the EU commissioner for agriculture and rural development.
Hogan began a six-day trip to Shanghai and Shenzhen on May 14.
Accompanied by representatives of 71 organizations and companies from the European agri-food sector, he said the delegation was the largest since he was appointed EU commissioner in 2014.
"This reflects the importance of the Chinese market and the strong desire of many European companies to build stronger business and trade relationships with their Chinese counterparts for their mutual benefit," he said.
The main purpose of the trip was to facilitate exchange and agreements between European and Chinese businesses, while building on existing trade.
Hogan and the delegates participated in the opening of SIAL China-Asia's largest food and beverage innovation exhibition - in Shanghai on May 16. The EU and 25 of its member nations occupied more than 6,000 square meters of exhibition space at the event, which runs until May 19.
Last month in Boao, President Xi Jinping unveiled a series of measures to further open up China's economy, including increasing imports and lowering tariffs.
"This initiative proposed by President Xi sends out all the right signals to global partners, and indicates that China is open for business," Hogan said. As well as benefiting countries that export to China, opening up would also equally benefit China itself because it would lead to increased investment and opportunities for Chinese businesses.
European Commission statistics show that China was the second-largest importer of EU agricultural products in 2016, accounting for 8.7 percent of all EU agricultural exports.
The two-way flow of goods was valued at 17.4 billion euros ($21 billion; 15.2 billion) in 2017, a spectacular increase over the last 10 years.
"China is our second-largest trade partner, both in terms of trade of agri-food products and total trade of goods," Hogan said. "And we believe there is great potential to do much more."
During the mission, Hogan and European representatives were due to discuss subjects including European meat and Chinese tea with their Chinese counterparts.
Rafael Jimenez, business development adviser at the EU SME Centre, which supports small and medium-sized enterprises with the aim of accessing the Chinese market, said the mission was "very down to earth".
From his perspective, such business visits played a positive role in equipping European businesses with firsthand information, like trends and opportunities in China.
"It is paramount for stakeholders to upgrade their knowledge on Chinese market continuously," he said.
The visit came amid recent trade tensions between the United States and China, the world's two biggest economies and the two largest trading partners of the EU.
In April, China took counter measures to place additional tariffs on soybeans, pork and some other US agricultural goods.
Soaring costs due to extra duties could prompt Chinese importers to seek alternative sources in EU member states, as some observers have warned.
The EU is currently the top pork supplier to China, with a market share of up to 60 percent of the total Chinese pork product imports.
Despite potential demand as a result of the trade spat, European businesses want the US and China to settle the dispute through negotiation.
"The EU remains fully committed to the principle of free, fair and inclusive trade with our global partners and we are pleased to see that President Xi is on the same page," Hogan said.
Dirk Nelen, CEO of Noordvlees Van Gool, the largest meat supplier in Belgium, was a delegate who traveled with the commissioner to SIAL and the EU-China Meat Forum, focusing on food safety and quality.
"In the case of our company, we are more than capable and ready to supply more pork products to our Chinese clients whenever needed to fill in a possible void left by other suppliers," Nelen said.
"However, our philosophy is not to compete on price but quality, speciality and services. In other words, we win over markets not by the price clients pay, but by the value clients get."
Jimenez said, "The EU looks into China with a long-term perspective, not tactical."