Cherishing food a top-down priority
China Daily | Updated: 2018-05-24 07:29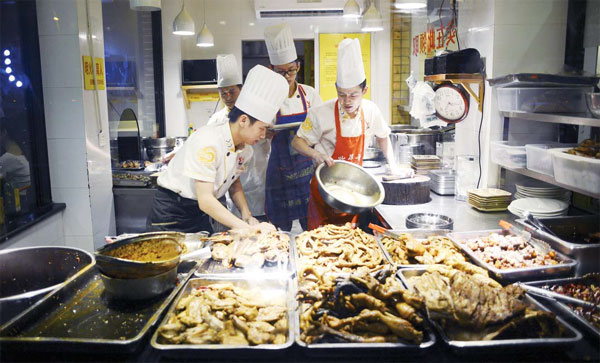 According to a recent report released by the Chinese Academy of Sciences and the World Wildlife Fund, 12 percent of the food served in restaurants is wasted. That is about 18 million tons a year, enough to feed 50 million people. Beijing Youth Daily comments:
The report indicates most of the waste comes from school and government dining halls, official and business receptions, and tourist restaurants. Vegetables top the list of food waste, followed by staples such as rice and noodles.
Both land and water are required to grow vegetables and grain and raise livestock, so reducing food waste will help reduce the pressure on these limited natural resources.
And while grain production in the country has been increasing year by year in recent years. The area of cultivated land in China has been decreasing year by year, while the population continues to increase.
However, as the report reveals, saving food is easier said than done.
The unspoken etiquette of restaurant banquets requires the hosts to order more food than their guests will be able to eat to show their hospitality. Nevertheless, taking away the leftovers has not yet become popular as it is deemed a stingy habit.
To address the problem of food waste, it is necessary to cultivate healthy eating habits. The central government launched a "Clear Your Plate" campaign in 2013 to raise public awareness of food waste, and has followed that up with a series of nationwide activities themed on "Eating Up". But more needs to be done so people are aware that being conscious of food waste is part of an environmentally friendly lifestyle.
Civil servants should set a good example for other people in this regard. And children should be taught in school not to waste food.
Not to waste food should be the universal consensus of society. The whole society should share the habit of never wasting a grain.